You want a successful tradeshow exhibit design and fabrication process, naturally. A number of factors come into play in the process, including (but not limited to) the timeline. When do you start the process?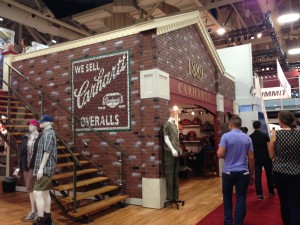 It depends upon your current status: do you already have a booth and simply want to upgrade, or are you starting from scratch? Do you want to move up from a small 10×10 or 10×20 inline booth to a larger island? While you intuitively know where you are, the first step of the process is to take a few moments and write it all down. Share it with all team members. You may want to do a full Request for Proposal from potential new exhibit houses, or you may be comfortable with your current vendor and simply want to communicate the desire to upgrade to them.
In any event, make and share the assessment with those that will be involved.
One Year Prior to the Show
If you're essential starting from scratch, you should probably look at the entire project from the 30,000 foot level about 9 months to a year out from the show date when you'll want the new exhibit. This gives you a chance to determine a comprehensive and detailed budget. Having this budget document that includes all related costs such as storage, potential shipping, set-up costs and so forth will reduce the element of surprise for you and management once the project is officially under way.
This early discussion should also look at the main shows that you'll be using the new booth at. Some companies have large booths that are used only once or twice a year, while they use smaller inline or popup booths at smaller shows. Look at things such as show goals and objectives, audience, traffic flow, etc.
Provide your exhibit house with a design brief detailing all of the elements of your new exhibit: size of booth, show goals, meeting spaces, storage, demo areas, branding elements, etc.
Six Months Out
Bu now you should be starting regular conversations with your exhibit house in earnest and their designer should be working from your design brief.
Your booth builder will want to have as much information as you can provide about the show such as dates, location, and other details. You may even want to provide them with your show marketing strategy and details so that they are aware of how you will promote your show appearance.
Four Months Out
You should have reviewed at least one or two designs and walked through any revisions with your 3D booth designer. You're in the stage of finalizing all of the details prior to fabrication.
Graphic designers will have received graphic placement details and graphic dimensions from the booth designer and should be developing graphics in conjunction with the marketing team.
Reach out to I&D companies for early estimates and availabilities for set-up of the new booth, if it's a larger booth that requires a set-up team.
Sometime in the next few weeks, depending on your exhibit house's capabilities, the booth will go through fabrication.
One Month Prior to the Show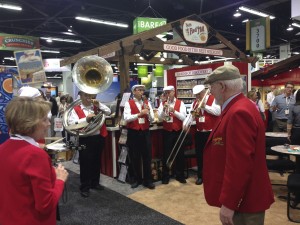 A walk-through with a booth set-up will be arranged and all graphics will be completed and placed. Any final items that need to be changed will result in a punch list that will need to complete by the exhibit house prior to crating and shipping.
This is when you'll make final arrangements for shipping, I&D and storage if they haven't been made yet.
Small Booths
Smaller booths, such as modular, kit or pop-ups don't follow the longer timeline that custom island booths demand. Many can be chosen from a catalog and ordered quickly once graphic files are completed and are often capable of being shipped in less than a month, and depending on the complexity of the booth, in just a week or two.
At the Show
You have a great booth! Set-up was flawless because your exhibit house furnished thorough and easy-to-follow instructions for the I&D team. Your job is to work the show, talk with visitors and generate new business!