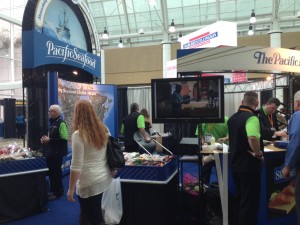 I had a chance to attend the 2016 NorthWest FoodService show in Seattle this past weekend and jumped at it. Hey, it's a good reason to drive almost four hours one direction on a busy, rainy I-5! NWFS a regional two-day show that is aimed at the restaurant profession and is loaded with exhibitors from the food production industry (think fish and fowl, fruits and veggies and more), software support services, linen, utilities, bakery equipment and so much more. With perhaps a couple of hundred exhibitors and a few thousand attendees, it's a much smaller show than Natural Products Expo West, although there are some companies that exhibit at both.
It's interesting to see, as at any show, the wide range of tradeshow exhibits on display. Some companies go all out with large island exhibits (at least a few), while most are of the smaller inline variety. Some exhibitors came with a serious exhibiting attitude and others seemed like they showed up because there wasn't a game on. Not to disparage them, but it really showed in the lack of attention to details, or even to the broad strokes of putting up a respectable exhibit.
Take a look at this photo collection and you'll see the type of booths that were on display at the Washington Convention Center this past weekend.