The following is a guest post by Tifany Scifo of Reveal Marketing Group.
Trade shows provide the perfect forum to expand your business – whether you run a multi-million dollar enterprise or a humble family business, a successful trade show can be a veritable boon to your company's bottom line. Unfortunately, the opposite is equally true – a disastrous showing can not only give potential investors and clients the wrong idea about your company, it can have a lasting negative impact on your firm's reputation and cling to your company like a stubborn, fetid odor.
With so much on the line, it only makes sense that you exercise due diligence and prepare your contingent of representatives before you even leave for the convention; to make absolutely certain everyone is ready to bring their "A" game – and ready to "wow" anyone who happens to saunter up to your booth.
Trade Shows: An Eye Witness Account
Last year while writing for the automotive industry, I was fortunate enough to be assigned to cover the SEMA (Specialty Equipment Market Association) event in Las Vegas. For those unfamiliar with this particular event, it is the biggest automotive event of the year – filling the expansive Las Vegas Convention Center with thousands of custom vehicles and aftermarket vendors as far as the eye can see. Big or small, each vendor had the same goal – to develop a list of qualified leads that could then be turned into a mutually beneficial business relationship.
As I walked from hall to hall, it became startlingly clear which companies were making the most out of the opportunity. Surprisingly, it wasn't the companies with the flashiest digital displays or the ones that employed a gaggle of vapid booth babes armed with coy smiles. As I listened in on the interaction between vendor and potential client, it occurred to me that the ones that would emerge victoriously from SEMA were the ones that came prepared – lock, stock and barrel.
How to Get Your Staff Ready for "The Show"
Whether it's your first show or tenth, there's always an opportunity to tweak your approach to trade shows. Remember that if a strategy worked one year, it may not the next, so be sure to revisit your plan of attack and set reasonable goals. As for the staff that will be accompanying you, there are a few things they should know:
● The Marketing Strategy. It's important your staff knows exactly what is expected of them in terms of sales goals, but be sure to take the time to expand a little further on the topic of "goals". Give your staff some idea of the impact a successful trade show can have on the company, and take the time convey to them any key messages you'd like potential clients to walk away with.
● Your Products. Regardless as to whether or not you've decided to feature a single product or an entire product line, you need to invest some time reviewing them with your staff. Remind them that they will be the point of contact for a lot of new potential clients that may be unfamiliar with your company, and their product knowledge must be on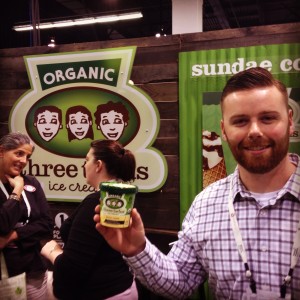 point. Take a features and benefits approach.
● Sales Floor Selling. If your staff is used to engaging clients one on one (or on the phone), remind them that selling at a trade show is a very different beast. Instruct them that they will likely be vying for a client's attention (quite possibly within eye or earshot of a direct competitor) and that things like professional attitude, positive body language, and eye contact are all valuable tools in engaging a client. Also, take a few minutes to review some of the questions they are likely to encounter while speaking to potential leads, and ways they can answer them earnestly and intelligently.
● The Layout. While this point could certainly mean, "be sure your staff knows where the washrooms are located", in this instance it means "know the layout of the booth". Be sure that before the doors open that each member of your team knows where the overstock promotional items, company literature, and anything else they may need to close a sale are kept. There is nothing quite like a confused and disorganized staffer to chase away a sale.
Additionally, it would be good for your staff to know where the center's private meeting rooms are located, should the need arise to take a client somewhere quiet to seal the deal.
Consider Hiring a Trade Show Coach
If you're not exactly enthused at the idea of having to get your staff ready for the show, or if you simply don't have the time, you can certainly benefit from hiring a coach. Professional trade show coaches like Susan Friedmann have carved out a niche for themselves helping companies get the most out of trade shows.
Coaches have seen what works and more importantly, what doesn't – and have a commendable grasp on what needs to be done prior to, during, and after a show to ensure that your trade show is as profitable as it can be.
---
Tifany Scifo is the Creative Marketing Manager at Reveal Marketing Group Inc. She specializes in Web Design & Development, Creative Design & Direction and Tradeshows. She enjoys sharing her thoughts through blogging and social media.
---