You bought a new tradeshow exhibit. You took it to the show, set it up to great fanfare and response, then packed it up and took it back to the office. Now what? Will you wait until the next show, pull it out and think it'll look exactly the same as the first time?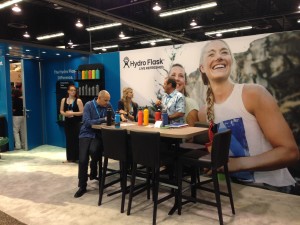 Hardly. Unfortunately, tradeshow exhibits are not like the common household items, such as a recliner, TV set or backyard patio table and umbrella. With those items, you can see any rip that needs repaired or gouge that should be covered or food spill that needs cleaning. Nope, a tradeshow exhibit is handled roughly for most of the time it sees daylight. It's pulled from crates, assembled, used, abused, battered and more prior to being crammed back in the crate by employees who are in a hurry and are thinking ahead to what they can do later in the day. Sometimes a forklift and a tradeshow panel will have a close encounter. Other times an aluminum strut gets a big gouge from who-knows-where.
So how is the best way to handle it?
Cleaning
The first step is to realize that simply, the purchase of a tradeshow exhibit means that you are also responsible for its care and feeding. Much like a pet or child, you have much more responsibility than just making the purchase.
Tradeshow exhibits need care and feeding. To wit, start with each time the tradeshow exhibit is set up. Document the set up with photographs and notes if necessary. Point out areas that are damaged and need repair, or need cleaning. Most exhibits will need some sort of cleaning after each show, especially if you're in the food industry and have been handing out samples. Take soap and water, scrub counters and shelves and let dry.
Damage Assessment
Once the tradeshow exhibit crates come back, schedule time to open the crates and go through each piece. Again, document the state of the items, and document the way the crates were packed, comparing to the way they were originally packed at the exhibit house, or prior to shipping from your warehouse. In any event, the more you are aware of what shape your exhibit is in, the better off you are.
Does the exhibit need repairs? If so, determine what type of repairs it needs and who will do it. Clients we've worked with at TradeshowGuy Exhibits have approached this issue in a couple of ways: some will ship the crates straight to the exhibit house to have it closely examined every three or four shows. Others will make sure they spend time a month or so prior to an upcoming show to pull the exhibit pieces out of the booth and set it up. If it needs repair, and they're capable of making those repairs, they'll do it. Sometimes they'll need to order a specific part or two from their exhibit house that originally fabricated the booth, but often it means doing it themselves.
Storage
How is your exhibit stored? It should ideally be stored in a warehouse that has a consistent temperature, is dry and pest-free. This avoids damage from the changing temperatures, mildew and insects.
Professional I&D and Shipping
Another way to keep your exhibit in top form is to have it handled by professionals who know what they're doing. This means having it set up and disassembled by professionals, and having it shipped by companies that are used to handling tradeshow freight.
Graphics and more
Other parts of care and feeding of your tradeshow exhibit include making sure all graphics are up to date and fit properly, making sure all the pieces of the booth are returned and in good shape, and making sure the crates are still sturdy and stable enough to endure another shipment.
By taking complete ownership of your tradeshow exhibit, you'll not only get more life out of your exhibit in terms of years that you are able to use it for tradeshow promotions, you'll save money by avoiding large repairs due to neglect.