It must be because I was a rock-and-roller from about the age of eight. Or maybe it was the first time I sat down at a drumset when I was 11 and knew I had to have one of my own. Or maybe it was when I finally figured out at the age of 16 what a bar chord on a guitar was, and how I could move it up and down the neck of the guitar for different chords.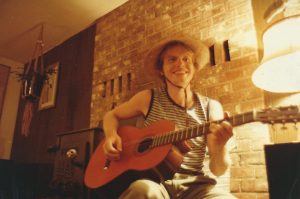 Or maybe it's just because I gotta have music in my life as much as possible. I listen all day long, and grab my guitar to work on chord progressions, play an old favorite or sit down at the drums often to bash out something.
So you can imagine as my iTunes library's some 47,412 selections (and counting) is set on shuffle day after day, I hear a lot of music. And that music inspires me in interesting directions.
Like the song I'm listening to now called "The Endless Night" by Return to Forever. I put "tradeshow endless night blog post" the Google box and on the first page was a link to "Ten Very Cool Examples of Experiential Marketing" by David Moth at Ecocunsultancy. Now that's some inspiration!
Next comes "Red Rain" by Peter Gabriel. Let's see what happens when I search for "tradeshow blog red rain." Up came "Running a Live Lab at a Tradeshow" by Redgate on their blog. What an inspired idea for a tradeshow!
Next: "Hidden Treasure" by Traffic. A search for "hidden treasure tradeshow blog" gave me "The 4 Most Annoying Hidden Tradeshow Costs" on the Expo Marketing blog. Hey, saving money on shipping, drayage, deadlines and labor is definitely inspiring!
How about one more? One of my favorite Sixties bands, The Troggs, came along on my computer and played "Girl in Black." So when I searched for "tradeshow blog girl in black," on page one was an article from Classic Exhibits' blog titled "What Not to Wear at a Tradeshow," which is definitely a good read.
Now that you're found out the wide diversity of music that inspires me, I want to know – what inspires you?
Let's roll the Troggs here, just for fun: