More than two-thirds of exhibitors do not have a solid plan in place and end up making mistakes at the tradeshow as they exhibit.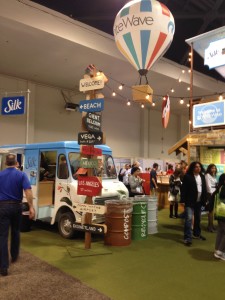 In fact, not having an organized, comprehensive plan is one of the most common mistakes that exhibitors make.
And it's safe to say that nearly all exhibitors don't have a solid grasp of the metrics of their success or failure that comes from that tradeshow appearance. Why? Because companies tend to put all of their energy, time and money into putting on a good show, and very little into counting the results after the end of the show. Measuring your results – leads, sales closed – is one of the most critical measurements you can make.
Let's look at some of the common mistakes you might make as you exhibit at the tradeshow.
First, you don't have a comprehensive plan. This means going from A-Z and planning to cover all your bases, from pre-show marketing and show execution to having an exhibit that accurately represents your brand and communicates your message to counting leads and sales after the show is done. Know what you're selling, who you're selling to, how you're planning to get back your return on the investment and where your tradeshow appearance fits in your overall marketing strategy.
Secondly, you may have the wrong people in the booth. Tradeshow floors are a chaotic busy mess where hundreds or thousands of people come and go all day long. Without proper preparation, which usually means staff training and picking the right people, you'll end up with sales people or other staffers that can't interact with precision, veracity and alacrity with those visitors. They're not asking proper questions, they're letting big fish get away and they're spending too much time on little fish or people that won't ever buy.
Third: you're repeating yourself. Do you ever see the same company at the same show with the same exhibit year after year, showing off the same products? On close examination it seems nothing really changes from year to year. A company that's on top of their game will upgrade the booth regularly or replace it when necessary; they'll have new products to show off and new ways of interacting with visitors.
Fourth: you're cheapening your brand by having inappropriate brand ambassadors in your booth. Pretty models in skimpy outfits may attract a crowd, but they do nothing to improve or define your company's brand unless, of course, your brand is built on pretty models in skimpy outfits. Otherwise, in today's climate, exhibiting in the US using those types of representatives will likely get you negative feedback.
Fifth: the biggest tradeshow marketing sin of all – you're not following up on all of those leads in a timely manner. The fact that tradeshow leads are cheaper by the dozen and more targeted than any other kind of lead, coupled with the fact that your competitors have many of the same leads in their bucket, means that you must strike while the iron is hot. Letting a lead sit more than a few weeks means it grows colder and colder until you might as well toss it out with the other dead fish.
We all make mistakes – it's part of life – but the more you can minimize mistakes with oodles of tradeshow marketing dollars on the table, the better off you'll be.
---