Babies – lots of babies – along with young kids, the occasional dog, lots of mascots/costumes, and a few weirdly dressed people. Typical Expo West!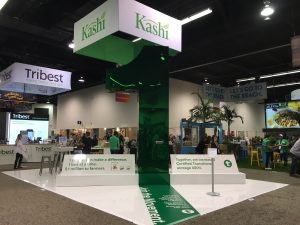 Saturday night – Day Three of Expo West – was spent hanging out with Oregon Business folks at their annual soiree at McCormick and Schmicks, and later, producing Monday Morning's vlog/podcast. Now let me see if I can manage a recap of the final two days of Expo West.
Dozens of people I spoke with agreed that the show was somewhere between amazing and fantastic, or perhaps crazy-busy and overwhelming. Just saw the press release this morning from New Hope which showed that there were over 85,000 attendees, and 3,521 exhibiting companies, including more than 600 first-time exhibitors.
I mentioned in my vlog/podcast that I was impressed by the great detail that exhibit designers go to to capture a brand's essence. I also got into a conversation with one booth staffer about the wild colors that are everywhere in the show. "Can you imagine what this show would be like without all of those colors?" he asked. Agreed. Bright and bold colors everywhere.
There were also a lot of BIG hanging signs, from 40'x40' aluminum structures/fabric graphics to wooden panels and what looked like carved wooden signs. Does anybody look up these days at shows?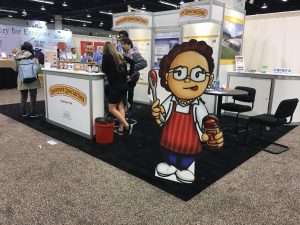 There were a lot of clever interactive things going on at booths, offering people an opportunity to walk into the booth space and do something. It's always a great way to capture attention. I counted at least a dozen "selfie" stations, with some including a circular light where you can take a selfie where you're fully and evenly lit, and some stations where they'll take a photo and then email it to you. One of the most fascinating and eye-catching interactives was a Rube Goldberg contraption in the KIND Snacks booth, showing how KIND snacks are made from start to finish.
There were many opportunities to tweet a hashtag with a photo for a chance to win something, so it was good to see the social media tie-in as well. Although, frankly, it almost seems run-of-the-mill, when six or seven years ago social media was all so new!
Another thing I noticed in booth fabrication was the use of see-through printed fabric. Everywhere I turned there was another example. See-through fabric is very useful in creating a barrier, but the see-through aspect gives you a view of what's beyond it, without intruding on people that might be in a meeting room for example.
This was my sixteenth consecutive time I've attended Expo West in support of clients, for years, the halls have been set up in a specific configuration: foods, manufacturing, supplements, new products and more all have had their own areas. That didn't change this year, but the layout changed – drastically – and it was interesting to see how the whole layout was essentially flopped from one end to the other. Lots of comments from people who weren't sure how it worked, but from my view it worked just fine. Took a little getting used to.
Sunday – Day Four – started off much slower, in terms of visitors roaming the aisles. I was there at opening of ten o'clock, and the back reaches of the halls were lightly travelled. it didn't take long for that to pick up. By late morning, it seemed almost as busy as previous days. It did give me a chance to speak to more people without feeling rushed. By 2:30 to 3 o'clock, exhibitors were offering all of their samples to attendees so they wouldn't have to transport them back to HQ. And of course, some folks were pulling down banner stands and packing up suitcases by 3 o'clock. Ya ain't s'posed to do that, but it happens anyway. Planes to catch.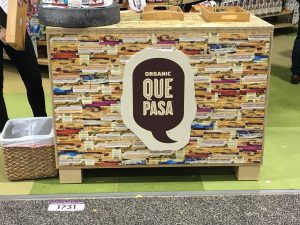 And finally, I know of no other show where, frankly, you never need to eat a meal offsite for ate least three days. Virtually every company is sampling the goods, from sausage, bagels, bread, toast and eggs to energy bars, drinks, coffee, teas, juices and other goodies. It's easy to consume a couple of thousand calories without even batting an eye. Even if you try to avoid eating much, you'll end up taking bite-sized samples here and there.
And don't get me started on the varieties of chocolates.