Not every tradeshow manager faces the same challenges. Some are overwhelmed by being understaffed. Others have a boatload of shows to deal with and it seems as if there is never a breather.
But in the work I've done over the years with tradeshow managers, the same handful of issues keep coming up as being significant challenges: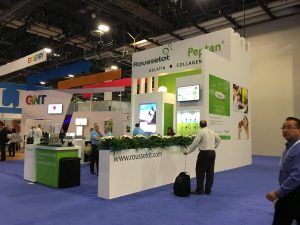 Logistics: there are a lot of moving parts in tradeshow marketing. Shipping and I&D (installation and dismantle) make up a big part of those logistics. Add to that shipping product samples, getting everyone scheduled for the show and the booking a convenient hotel and many other bits and pieces and handling the logistics of tradeshow marketing is often outsourced. That's one reason why at TradeshowGuy Exhibits we are taking on more and more logistic coordination for clients.
Exhibit Brand Management: keeping the booth updated from show to show. New product launches, new services and more means that the exhibit needs to be updated for upcoming shows to reflect that. It's common, but the timeline sneaks up on people. In a sense, the challenge here is coordination between graphic designers, production facilities and making sure all items get done prior to the booth crates being shipped out.
Company Growth: Many companies we work with are doing very well. But that means moving from small pop-up type exhibits to more complicated exhibits with light boxes, custom counters and more – all of which ship in larger crates and would be set up by hired EAC's (Exhibitor Approved Contractors). All of this change means that the person handling the shift is moving out of their comfort zone. They face a lot of choices around whether to hire installers, how to package the exhibit for shipping (crates vs. a handful of plastic molded cases, for example), and more.
Getting Good Results: Exhibitors who don't get good results complain that tradeshows are a waste of time and money. Yet other exhibitors at the same show rave about how great the show was, how many new leads they made and new contacts they came away with, and how many sales were closed. So what's the difference? Frankly, many exhibitors don't prepare or execute well. Tradeshow marketing is not rocket science, but with all of the moving parts it's easy to let a few items slip through the cracks. And those missing items can make all the difference between success and failure.
Budget: It costs a lot of money to exhibit at tradeshows. For companies that do tradeshows, the amount invested in tradeshow marketing is about a third of their overall marketing budget. Making all of their tradeshow dollars stretch as far as possible is an ongoing challenge faced by all companies. For a long list of ways to cut costs at tradeshows, check out this webinar.
Other challenges include booth staff training, record-keeping, keeping track of your competition and other items, but if you can keep these few items under control, you're doing better than a lot of your fellow exhibitors!