As in any discipline, we can all end up very focused on just a few aspects of the overall skills needed to be a well-rounded and talented worked. For instance, in baseball, a pinch-hitter is great at hitting a pitch but may not be that great at fielding or running.
In the digital world, someone may be very good at engaging on Twitter or Instagram, but just doesn't get LinkedIn or spend any time on Facebook.
A photographer may be an expert at photographing weddings but would have a difficult time to find a great landscape photo or have the patience to take a good night photo.
You've probably heard that it's better to be focused on just one skill and become really, really good at that skill instead of being a Jack or Jill-of-all-trades.
I don't agree. The more skills you have the better off you'll be, even if those skills are only average or slightly above.
Take a writer. Some writers can be a great author but suck at promotion, social media engagement, public speaking and at other skills that would help them be more successful. There are lot of "average" authors that are very successful because they have learned how to engage on social media, speak in public, put together a solid promotion.
When it comes to the well-rounded tradeshow marketer, what skills should you have? Not necessarily be the greatest at, or extremely skilled, but all of the various skills to make you rise above the pack? Let's take a look: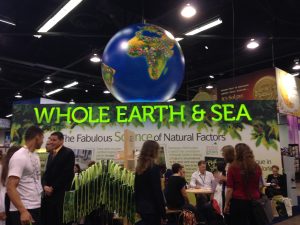 Organization: there are a lot of bouncing balls in the tradeshow world. Your ability to keep track of the many parts of tradeshow marketing is probably one of the most important skills.
Communication: whether it's having a conversation or communicating with people via email, being able to understand, and be understood, is critical.
Social Media: you don't have to have the most followers or engage with everyone that "likes" one of your posts, but you do need to know the basics of creating, writing, posting and engaging with those followers.
Scheduling: tradeshow dates on the calendar don't move. Which means you'll have to coordinate things such as logistics (shipping, travel, installation/dismantle), booth staff scheduling, updates to your exhibit (modifications, graphic printing, etc.) and more.
Photographer: maybe not the most important skill, but since you carry a camera around in your pocket, you'll need to learn to take good photographs of the exhibit, and visitors in your booth. Learn how to frame people, get the lighting right, try not to let unwanted guests photobomb your photo, and more.
Labor: you may hire show labor to set up and dismantle your exhibit, or you may have to set it up with fellow staff members. Either way, knowing how everything goes together is a useful skill.
Networking: back to the communication and interpersonal skills. But networking on its own is critical to building a network of people you can call on when needed.
Finally, how to MacGyver things: you may not have to actually make your own parachute using a canvas and tie-downs, but being naturally resourceful is a gift. Don't let it go to waste.
Any other critical skills come to mind?