Having never attended the National Association of Broadcasters Show in Las Vegas, I did not have a full grasp of the scope and size of the show. And once I was walking the floor earlier this week, it still took a few hours to fully comprehend how freaking big it is. There are nearly 2 million square feet of exhibiting space in 13 halls separable by movable walls.
Over 90,000 attendees showed up along with over 1600 exhibitors to see the latest in video and audio tech in all its glory: broadcast and cable TV, sports, podcasting, radio, lighting, cloud services and much more. It was all there. And it was overwhelming.
The biggest takeaways? As an old radio guy who started his career by playing single 45s on a turntable, I can safely say: we've come a long way (mentioning those 45s to the 20 and 30-something folks staffing the booths also was a good way to bring forth those puzzled looks along with a hesitant chuckle – yeah, I know I'm old).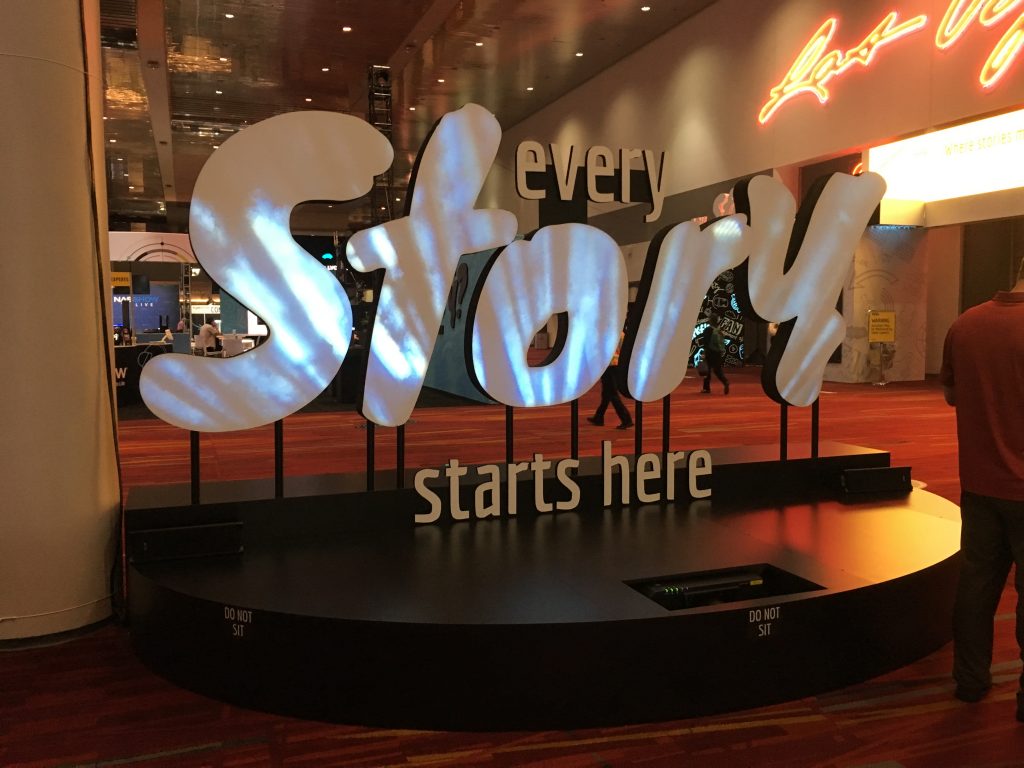 Video is huge, as are the gigantic video walls, which seemed to adorn nearly one out of three booths. Quality is impressive. Cameras are going up in quality as the price creeps down. Seeing and playing with 8K cameras showed attendees what the working video world will be working with soon if they aren't already.
Audio production, and in particular, the production of audio in conjunction with video, is a really big deal. Avid's booth featured a large screen displaying how they mixed the music that was a part of the Oscar-winning Bohemian Rhapsody. Also there were the Oscar winners, who sat on a panel discussing the process.
Visitors also could partake in training on a large scale: Adobe, Avid, DaVinci Resolve and many others were doing full-on all-show-hours in-depth training on their latest products.
From an exhibit standpoint, I also saw something I'd never seen before: many video camera and monitor manufacturers built set and had them populated with stand-in actors. The idea was to give visitors a chance to put their hands on the various cameras and zoom and pan and see how everything worked under conditions that replicated what they'd find on an actual set.
I also saw at least three stationary cars equipped with cameras to film actors as they drove. One exhibitor went even further: behind the car there was a large video image of a road as if the car was moving. On the right and left were more screens with similar images. And for the coup de grace, a large video panel suspended over the entire car which simulated the movement of the sky, reflections of streetlights and more. An actor need only sit in the car and everything else is captured in one take, with little post-shoot work needed.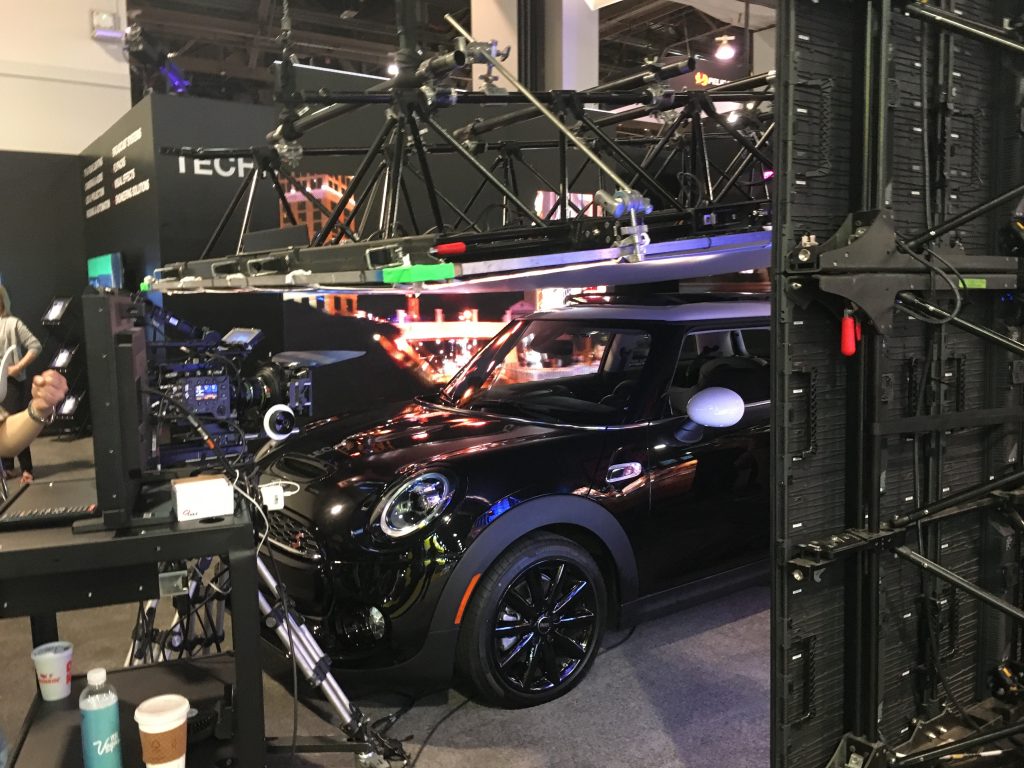 Lots of international exhibitors, including Europe and China, Korea and Canada among the more prominent. It seems pretty common that exhibits from China and Korea will set up exhibits with walls that enclose much of the space. I don't see that as much from US exhibitors, so my hunch is it's a bit of a cultural thing. I also don't think humor passes easily from culture to culture. One exhibitor from China had a McLaren automobile on display (wasn't really sure of the purpose, but it certainly looked sharp). As I was talking to one of the reps, I joked that maybe they should raffle off the car at the end of the show. All I got in return was confused look. Hey, I thought it was funny!
Exhibits were impressive from the big companies, and many of the smaller companies also had a good look. Although as in any show, you always see the smaller companies in the 10x10s around the edges of the main floor struggling to be seen or to even have something worth seeing. The most impressive things seen in the smaller booths were the company's product lit up with LED, or something moving that catches the eye.
Esports had its own section, showing off gamers and gaming. We know that gaming has become a multi-billion dollar industry and if you search for esports competition, you'll find a lot. There were panels and competitions taking place in the section, but frankly, since I'm not a gamer, it didn't hold my interest that long. However, my 18-year old son probably could have spent all of the show in this area and it wouldn't have been enough!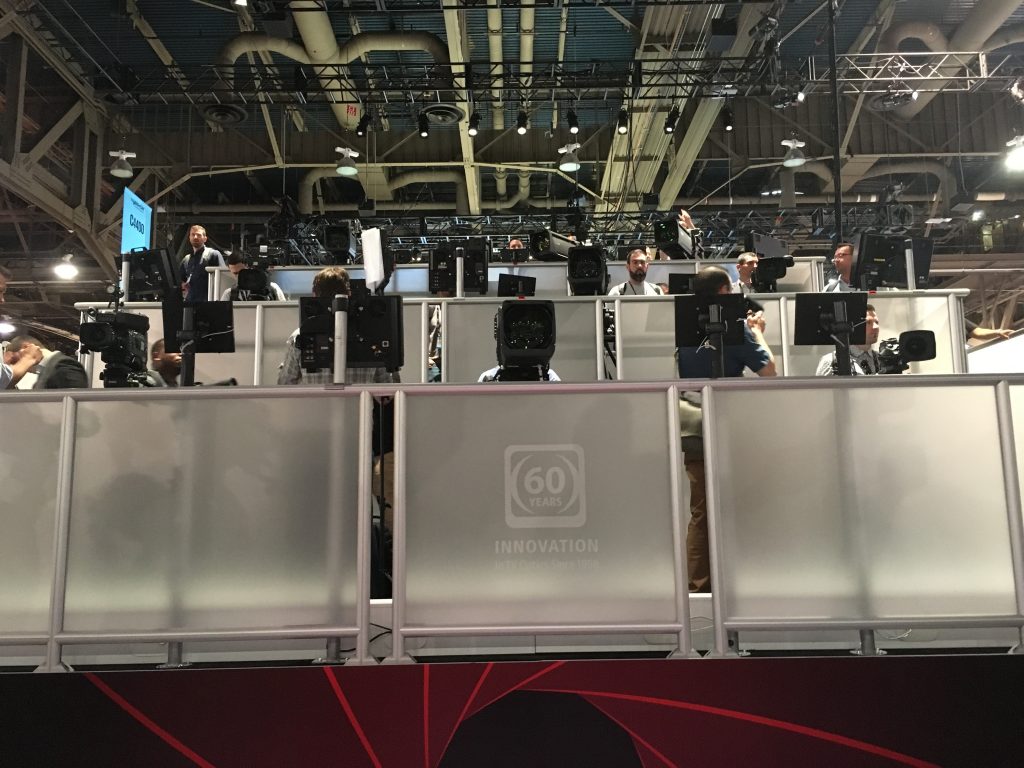 The tech that supports radio, tv, cable and Internet was also displayed throughout the halls. Not being a tech guy, much of this was over my head, but impressive nonetheless: network, audio, video controllers; studio design and audio and video production boards, facility infrastructure, transmitters, processors, automation software, captioning AI, streaming, scheduling, logging, transcription…you name it, somebody was here promoting it.
I talked to well over a hundred people about the show, how it worked for them, how it helped create leads, sell their products. Most told me it was a great show for them. Several said this show in particular was the one show that gave them most of their good leads for the year for them to follow up on.
But not everyone agreed. One woman I spoke with said she'd been coming to the show for thirty years, and it's not the show it used to be. One comment she made totally threw me. She said the "little Sony" booth wasn't impressive at all. My jaw dropped because I'd been at the Sony booth (probably around 10,000 square feet) earlier in the show and determined it to be one of the top exhibits there, going so far as to walk through the booth for a minute or two shooting video to capture it all. But no, she said, "Sony used to take up a third of the hall!" She said that the networks (CNN, ABC, NBC, CBS) don't send the people they used to, and the few they do send spend all their time behind closed doors in meetings, and don't get out and mingle on the show floor like they used to. So her market wasn't there to the extent they used to be. I found her perspective fascinating: no matter how much evidence you see to support one view, there's always another view that's just as valid.
I caught a couple of events on the main stage: opening day, NAB President/CEO Gordon Smith (and former Oregon senator) gave a keynote and ended by awarding MASH actor Alan Alda the NAB Distinguished Service Award. Alan sat for about 15 minutes after the award to chat about his career. I also caught the next morning's panel, Tales from the White House Beat, featuring Smith chatting with ABC's Cecilia Vega, NBC's Hallie Jackson, CBS's Steven Portnoy and PBS's Yamiche Alcindor as they shared stories and insight into covering the Trump administration.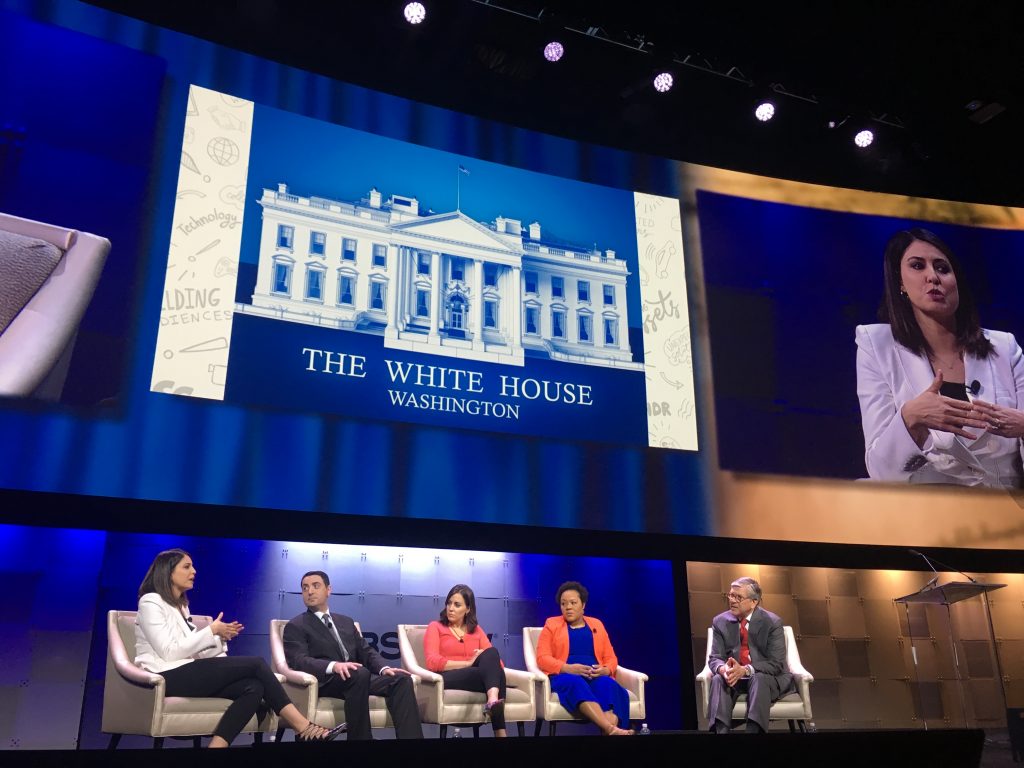 I was invited as a blogger which made me a member of the media, so I felt a bit of kinship with these professional journalists. I've been in radio news teams, hosted talk shows and been behind the microphone for decades, and it was great to hear the stories they told.
Lastly, a shout out to these folks: Josh at Time Lapse Cameras, Kent at Sharp Electronics and Suzy at FeiyuTech for their time and information. They reached out and invited me to check out their latest. Time Lapse Cameras has, as you might imagine, some great little affordable time lapse cameras which can be used to record any number of things from construction to exhibit setup and dismantle. Sharp showed off their new 8K cameras which are out later this year, and FeiyuTech demonstrated a new action camera, the Ricco, along with a handful of three-axis gimbals and other assorted goods for the video camera market. All good stuff and thanks for having me!