Let's face it, when you're shopping for a custom tradeshow exhibit, the dollar signs can often start spinning so much your head soon follows. Things can get expensive in the tradeshow world, so it makes sense to figure out ways to save money along the way.
Start with the premise that the reason custom tradeshow exhibits can be expensive for any number of reasons. First, there are a lot of people involved: designers, account executives, fabricators, detailers, crate builders and so on. Things are usually hand-crafted in the exhibit world in the sense that each piece has human hands on it several times. Even if a CNC machine is programmed to cut metal or wood, a human still has to make it happen. Building an exhibit is not mass manufacturing. Its individually crafted items designed and built to look spectacular.
How to keep the costs down? Here are six ways: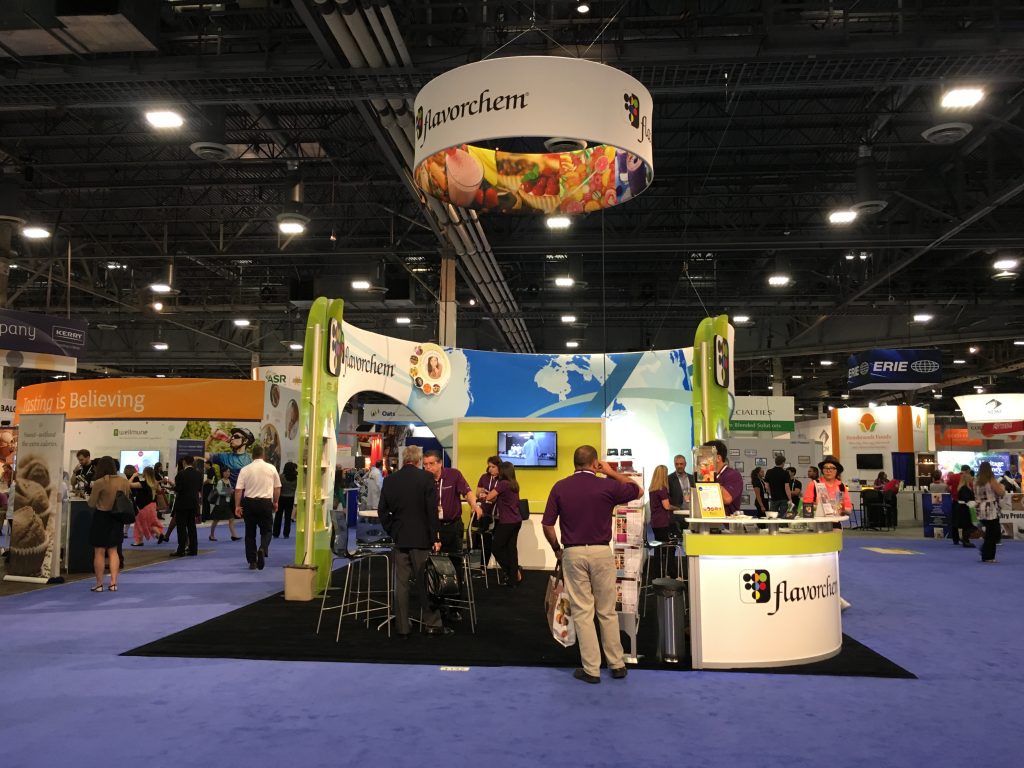 Consider starting with a kit. Many exhibit builders offer a number of kits to keep costs lower. With a kit, the design is generally pre-determined. But with a good kit, there are always opportunities to customize the kit. In a sense, you're creating a hybrid between custom and 'catalog' designs. Shop the company's website for kits that might give you a good starting point.
Know exactly what you want and get nothing more. A custom exhibit is great in that, as part of the design process, you can identify what you need – exactly. If you need just three shelves for product display, don't go for four or five or six. Those can usually be added later. Need a charging table? There are always low budget options that are not custom but can be custom-branded.
Work with lightweight materials. While there still are many heavy wood-built exhibits that appear at shows – usually for a great reason because it's part of the brand – more exhibits are moving to lightweight materials such as aluminum frames and fabric graphics. Not only are the materials lighter, which means they ship for less, but fabric graphics fold up and ship in a smaller space.
Rent furniture. If you rent the same thing show after show, it'll add up and eventually you'll end up paying more for the furniture than it you owned it. But keep in mind, but owning it, you have to pay to ship it, pay to store it, and pay to replace it. And furniture that you own will get scuffed, nicked and damaged over time. With rental furniture, you get brand new or like-new items, you get to choose from the latest styles, and you don't have to worry about shipping or storing.
Don't rush it. By planning ahead for a custom designed and fabricated exhibit, you're avoiding rush fees, last minute glitches and a calendar that is rushing at you like a runaway train. Once you've decided on a new exhibit, sit down with your exhibit provider and work out a realistic timeline so that all parties know what's expected of them and when.
Preview the exhibit. It's pretty common to do this, but I have seen occasions where it's not done, and it's led to having to make expensive fixes on the show floor or have revised graphics printed at a rush fee and shipped using an expensive overnight service. Previews are generally designed to make sure everything works like it's supposed to, to make sure all the graphics fit, and nothing is left out. Even if you can't be there, make sure you have lots of photos of the preview.
Whether you're looking for a custom exhibit, a modular exhibit from a catalog or something in between, most exhibit houses are willing to discuss your budget and what you can realistically expect to get for your money.
---