This is a guest post by Emma Grace Brown
Are you interested in using video to enhance your trade show booth and attract more attendees? If so, you're not alone. Increasingly, businesses are recognizing the power of video to engage trade show visitors and drive leads. If you're considering adding video to your trade show strategy, here are a few things to keep in mind from the Tradeshow Guy Blog.
Video will help you stand out from the competition.
Video is an incredibly effective way to engage and captivate trade show visitors and can help you drive leads and conversions. In a sea of other exhibitors, a well-executed video can help your booth and product or service stand out and capture attention. Video is also an engaging medium that can help you communicate your brand story and message in a powerful way. When used correctly, video can be an incredibly effective tool for getting your message across to potential customers at a trade show.
Videos can communicate your message and tell your brand story.
When it comes to communicating your message and telling your brand story, there are few mediums more engaging than video. The right video content can be instantly memorable, helping to engage viewers and evoke a personal response. Furthermore, videos can provide context that transcends the boundaries of text-based content such as blog posts or articles. They enable you to visually demonstrate the personality of your company and showcase the truly unique aspects of what you have to offer.
Make your video visually enticing when audio isn't an option.
Making an engaging video without sound can be a challenge. After all, audio is often the most powerful element when it comes to conveying emotion. However, videos without sound can still have an impact if they're visually enticing. Start by creating a color palette that stands out and sets the mood for your video. Then use movement like pans, zooms, and fades to keep your viewer's attention.
Don't be afraid to use unconventional shots either – close-ups of small details or bird's eye perspectives can be mesmerizing with the right lighting and composition. Animated elements like overlays, transitions, and logos can provide visual interest as well. Finally, build in enough time for post-production to make sure your video looks its best in terms of saturation, contrast balance, and other adjustments.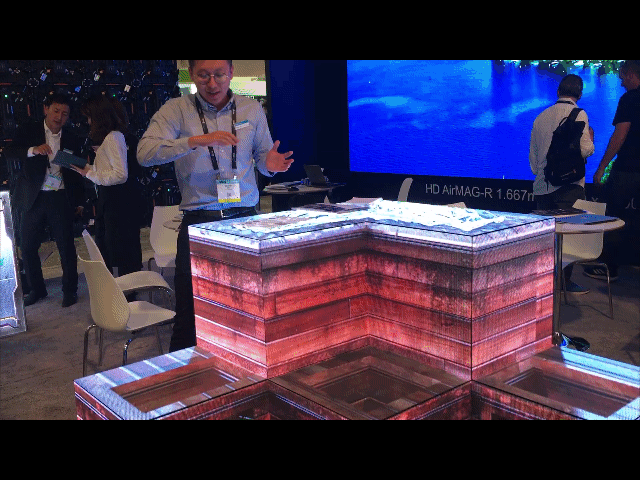 One way to reduce the cost of your trade show video is by using royalty-free stock footage. This approach can be a great way to save money while still getting high-quality visuals for your video. Check out these royalty-free videos that are priced affordably. When selecting stock footage, be sure to choose clips that are relevant to your product or service. You don't want your video to feel disjointed or out of place. Also, make sure the quality of the footage is consistent with the overall tone and style of your video.
Drive traffic to your booth with the help of social media.
Social media is a powerful tool for promoting your trade show booth and driving traffic to your exhibit. When used correctly, you can reach a large number of potential customers and generate interest in your products or services. One of the best ways to use social media for trade shows is by creating a dedicated event page on Facebook. This page can be used to promote your exhibit, provide information about the event, and give people a way to connect with you online. You can also use this page as a central hub for all of your other social media activity related to the trade show.
In addition to creating a Facebook event page, be sure to post regularly about the trade show on all of your social media platforms. This will help keep your followers informed and engaged. Use images, videos, and text-based posts to create excitement around the event and drive traffic to your booth. Make sure you're also using hashtags related to the trade show so that your posts will appear in relevant search results. And don't forget to respond promptly to any comments or questions from followers.
Are you looking for a way to make your next trade show even more successful? If so, consider using video. This medium can help you connect with potential customers and create an engaging, interactive experience that will leave them wanting more.
Emma Grace Brown lives her life by her rules, and it works! When she's not snuggling puppies, Emma promotes female empowerment through her website. Her mission is to help those who live with self-doubt to realize they don't have to mold themselves to conventionality.