Podcast: Derek Mehraban Interview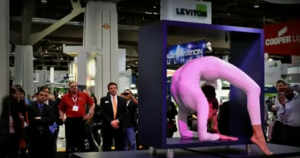 This podcast interview is a follow up of a previous interview we did with Derek Mehraban back in September, 2010. Back then, Derek had some great ideas on how to use social media to build buzz at a tradeshow through the use of a virtual tradeshow website. Lots of good info there – you should check it out if you haven't heard it yet.
This year, Derek's company, Ingenex Digital Marketing, went back to Lightfair in Las Vegas and worked again with OSRAM Opto Semiconductors – with some very interesting results. Listen to the podcast here while you check the links (which all open up a new window to allow you to continue to listen with no interruption).
[display_podcast]
RELATED LINKS
Ingenex Digital Marketing – Social Media Agency
OSRAM Opto Semiconductors at Lightfair 2012
During the show (you'll hear in the podcast), Ingenex Digital worked with Lisa the Contortionist – and set her up with some social media outposts to help spread the word before, during and after the show:
Share and Enjoy
Leave a Reply