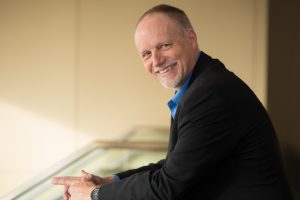 I'm Tim Patterson, known as TradeshowGuy™, a lifelong Oregonian with almost 18 years in the tradeshow industry. Yes, I really did register the trademark.
I'm a husband, father, skier, blogger, author and former long-time radio personality, grounded in the Top 40 music of the 70s in radio stations in northwest Oregon. After spending over 25 years on-air I moved to Interpretive Exhibits where I was VP of Sales and Marketing from 2002 to 2011.
Interpretive Exhibits closed down in  2011 when the owner retired, which is when I started Communication One Exhibits. In 2015 we re-branded the company to TradeshowGuy Exhibits to better match the image and brand. We work with exhibitors who are frustrated by their old exhibits that don't effectively represent their brand any more, or are old and heavy and are bulky to setup and and heavy (and expensive) to ship, or who don't have a thorough and comprehensive exhibiting program to get the most return on their investment.
In 2015 I published a paperback called "Tradeshow Marketing: 14 Proven Steps to Take Your Tradeshow Marketing to the Next Level." Pick up the paperback by clicking on that link, or download a free digital version for a limited time here.
In 2018, I published my second book, Tradeshow Superheroes and Exhibiting Zombies: 66 Lists Making the Most of Your Tradeshow Marketing. It's a lot of fun and very useful, too.
I've given a number of in-person presentations and webinars about tradeshow booth design, tradeshow success and using social media in combination with tradeshows, conferences and events. If you'd like me at your event, head to the contact page and send me a note.
I grew up in Central Oregon about a mile from Hoodoo Ski Bowl, where I started to ski at the age of 7. I've skied all over Oregon as well as a few stops in Utah and Montana, but still have a season pass at Hoodoo, which is about 90 miles due east of my home in Salem. Greatest small family-oriented ski resort ever.
Random things about me…
Drummer since 5th grade, still bang the skins regularly.
Guitarist since 1975 or so (still learning a few things)
Grew up on comic books, the National Lampoon magazine and a lot of 60s Science Fiction including authors such as Robert Heinlein, Philip K. Dick, Poul Anderson, Arthur C. Clarke, Harlan Ellison and others; didn't have TV as a kid which meant I was outside a lot or curled up with a comic book or science fiction novel.
I can juggle. Really.
Got married to the gorgeous, smart and talented Jenny in Gibraltar in 2013 – the same place as John and Yoko and Sean Connery. Sean liked it so much he got married there twice!
I dream of owning a Tesla (one of these days!).
Find me on social media here:
Just launched a new "hub" website for all of the things I do: Check out TradeshowGuy.net.