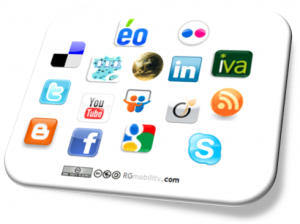 Are you using social media to drive traffic to your tradeshow booth? That's great – it be an effective tool for creating buzz at the show. Even though social media activity is effective at communicating with your community, using social media is often not integrated very strongly with a company's overall marketing goals. Let's see if we can help change that for you.
Let's say you're working with an ad agency. They're tasked with getting fifteen media mentions out of your tradeshow appearance. Meanwhile, your marketing department is tasked with getting X number of brand impressions. And your sales staff is tasked with generating X number of leads and closing a certain percentage of those leads. All of these entities are working to support the company's overall marketing goals of creating more sales.
So how can you use social media to directly support all of those entities on conjunction with your tradeshow marketing, instead of just being a stand-alone operation that interacts with your community and not much else?
Start with the end in mind by breaking down your marketing goals: for example, based on past experience the sales department will need X number of leads to create X number of sales. For instance you may know that for every 100 leads generated at a tradeshow, the sales department can close 62% within three months.
Add to that your goals in press and blog mentions, and overall branding impressions and you have your end goals in mind. How can social media support those goals?
Start by choosing your key social media marketing metrics that relate to your tradeshow appearances. It's easier to take each individual show and look at them separately, although at the end of a year it's useful to compare and tally all of those numbers to see how the overall efforts at all shows combined performed.
Traffic: are you using social media to drive your customers to your tradeshow booth? Keeping track of traffic at a tradeshow is difficult without outside help, but by adding this component to your metric measurement, you get a better handle on how effective your tweets and Facebook postings can be. Beyond that, you can promote giveaways or contests via social media which specifically brings people to your booth for that contest or event.
Leads: when you track tradeshow leads, have a check box or area where you can indicate whether the visitor found you via social media. Did they reach you via a tweet? Was it a Facebook posting? A YouTube video? A company blog post? All of these social media outlets should support your efforts and by tracking the results you can determine which is most useful.
Buzz or Mentions: often an ad agency that's working to bring you media mentions will have their own set of industry press contacts, and they can effectively exploit those relationships. Those efforts can be supported through social media: Twitter in particular is becoming known as a place where press relationships are started and developed. Not only that, once you meet a blogger or reporter on Twitter, the connection is direct with no gatekeeper.
Customer Support: your community of customers, clients, hangers-on and competitors (yes, they're there too!) are all talking about you. Whether you want them to or not, they'll say what they want when they want. By being proactive in listening to and responding to that conversation when appropriate, you are helping to improve the company's overall performance. It may not show up as a direct impact on the bottom line, but the impact is there: fewer customer support tickets; less need for customer service support personnel; quicker response to nip problems in the bud before they become giant negatives that have to be dealt with. Your customer support team can be invaluable in your social media monitoring because they often are the front line in dealing with customer problems and know what's happening before anyone else in the company.
Now that you're tracking metrics, add those to your actual goal numbers previously set. Build a spreadsheet that takes into account the number of booth visitors you achieved through social media and where they came from. Add in your confirmed impressions via industry press and blogs (often a harder number to pin down: you should be able to determine a magazine's circulation numbers, for instance, but knowing how many blog readers a specific blog has is probably harder – I'd suggest looking at Alexa rankings along with Compete.com and Quantcast.com although the caveat is that the data is very approximate).
Finally, add in actual leads and confirmed sales. When you track the numbers from show to show, and continue to implement social media to draw people to your booth, a clearer picture will emerge of which social media tools are the most effective and which are not. Having that information will help guide you to determine where to put your focus from show to show.
(graphic author: Gautheron – Creative Commons)