In the swirl of the tradeshow marketing soup, you're working to create a potent mix of trained staff, an awesome-looking and appropriately-functional booth, interactivity, social media engagement. When all is said and done, the ONLY important thing at most shows is: bringing home the bacon.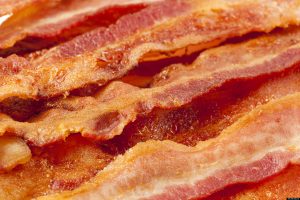 When you get back to the office, the big question that determines the success or failure of your tradeshow marketing effort is this: did you get enough warm and hot leads to justify the expense of going to the tradeshow and planning to go again next year? Because if you haven't, there's something missing. But what?
When you examine the various and disparate elements that go into a successful tradeshow marketing experience, you may be reminded of the famous question attributed to Henry Ford: "I know that half of my advertising dollars are wasted, but which half?"
Make no mistake, if you can't identify the wasted parts of your tradeshow marketing efforts, you'll continue to leak dollars and leads and return from shows with half-empty cups of leads.
It behooves you to examine all of the elements of your tradeshow marketing to determine where the inefficiencies lie:
Tradeshow booth 'look and feel' and function: does your booth draw the right people and once they get there, is it set up to handle them properly?
Booth graphics: do your graphics qualify and disqualify visitors as they arrive?
Tradeshow staff training: what's the level of knowledge of staffers on your products and services and are they properly trained in how to interact with visitors in the chaotic environment of a tradeshow?
Are you attending shows that offer the best market for your products and services?
Social media marketing: do your SM marketing staffers understand social media and the art of engagement?
By hitting all cylinders properly, you're actually doing two things: one, you're putting a much more effective tradeshow marketing machine on the tradeshow floor, and two, you're positioning your company at a much higher level than most of your competitors.
Given the stakes at risk and the amount of money you're investing in your tradeshow marketing, I have one question for you:
Why wouldn't you want to do all of these things properly and with excellence to significantly increase the odds of bringing home the bacon?
If you're not willing to do that, perhaps you are not yet ready for tradeshow marketing.
Oh, and if you want to know where the inspiration for the title for this post came from…