After 62,219 steps, a couple of achy legs and a few foot blisters in four days of Expo West, it came to me: "Tradeshows ain't for wimps!" Certainly not if you're walking the floor, nor if you're an exhibitor who's shepherding a booth (and staff) from the home office location to the show floor, through day(s) of set-up, three days of visitors, then dismantling and shipping it back. Thanks to Fitbit's tracking device that's 28.96 miles, give or take…
Tradeshows ain't for wimps. I know it, and every year I say the same thing: I should have gone into training for this about six weeks ago.
Depending on whom you listen to and believe and what rumors are flying, this year's Expo West, held at the Anaheim Convention Center, drew around 80,000 visitors, a one-third boost from last year. Or, as one exhibitor confided, a New Hope rep told her that the total attendance (attendees and exhibitors) was north of 110,000 and growth was so substantial that they were looking to demand some more space and concessions from the convention center, or within a few years it could be 'Sayonara, Anaheim, hello Las Vegas!'
Like I said, rumors.
Flash Drives: @Tradeshowguy Exhibitor Toolkit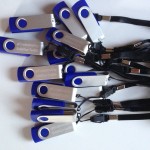 My calling card this year wasn't a card; it was a flashdrive that contained a lotta stuff to help exhibitors.  I took six dozen and they all found a home, except for the one that stayed in the bottom of my backpack. I loved that they were quite well-received by those I offered them to: "You're showing me how to bring home more leads, get more PR and have a better-trained booth staff? I've been waiting for this!" Did you get one? Would you like one? It's available now online: download your toolkit here.
Social Media
As always, I keep abreast of happenings on the show floor via Twitter, and, increasingly, via Instagram. It's easy to post photos to either, but from the Instagram platform, you can also post directly to Facebook and Twitter, so that makes it an easy choice to start there. Loads of exhibitors and attendees are hanging out on both platforms, and it's easy to follow them by tracking the hashtags #expowest and #expowest2015. Hey, I got some freebies this way, and also entered a few contests that I previously would not have run across. (Hey NutraSumma, call me when I win that mountain bike, okay?)
Booth Awards
This year's show was, as usual, quite the extravaganza. And the booths (and attendees) ranged from ghastly to elegant to stunning. Let's hand out a few awards, shall we?
Coolest Interactive
While there were certainly a lot of companies looking to find ways to get visitors to interact with their booth, the So Delicious booth found a nice way to get people involved by 'sharing the love' with chalk on a large chalkboard at the back of their booth.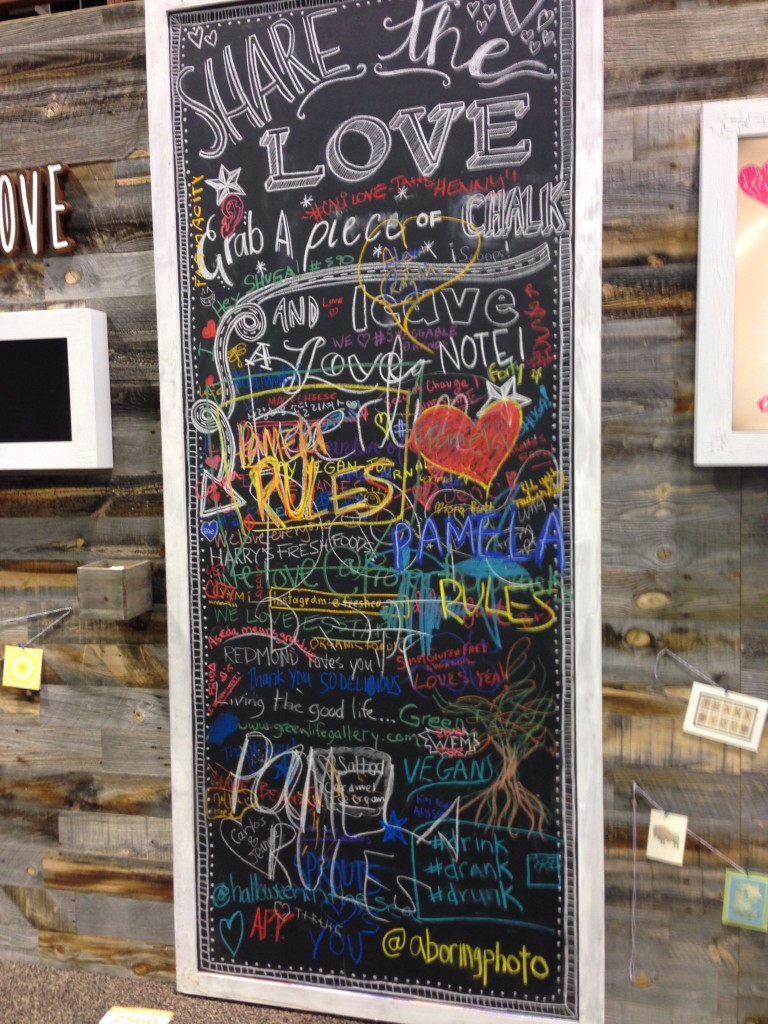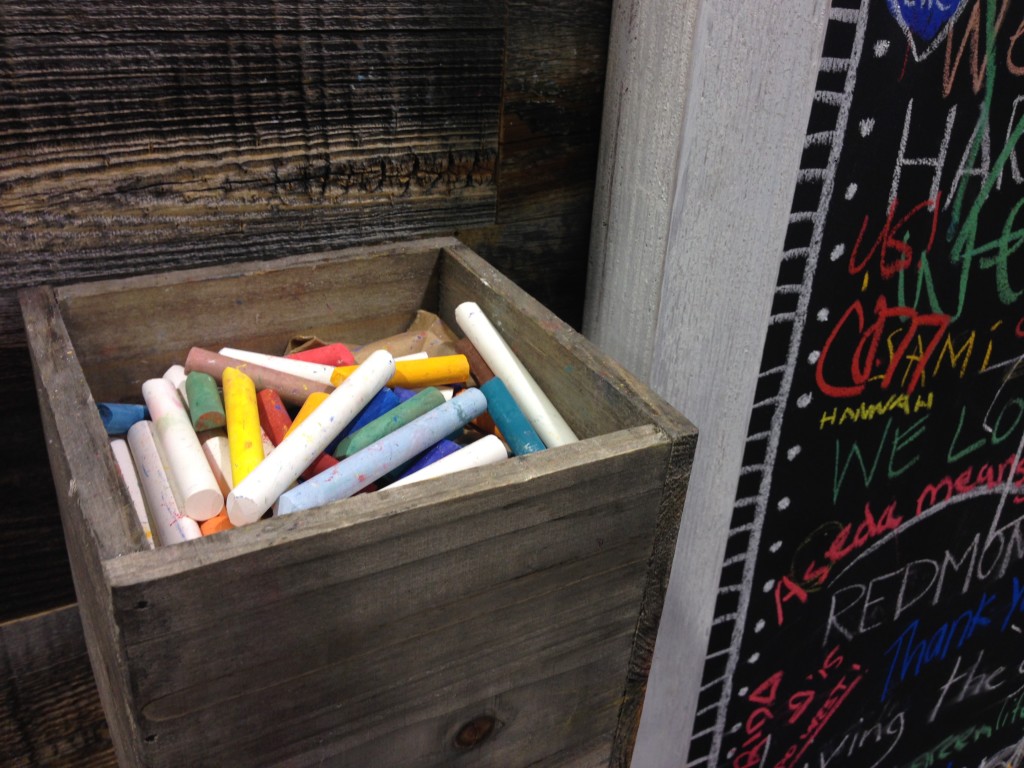 Most Unsubtle Header
Boomchickapop decided to go all in. I can hear the discussion now: "Hey, let's take the name of the product, make it as big as possible and add a lot of PINK! Whaddaya say, gang?" Well, it works. It gets you to stop, take a look and see what they're all about.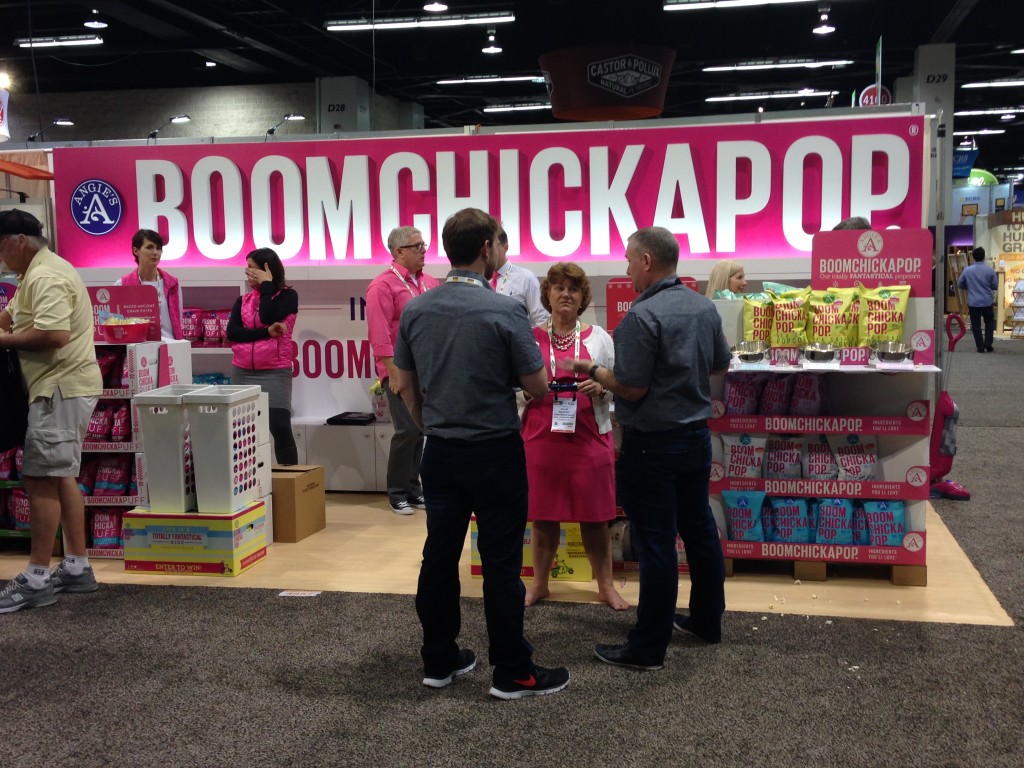 Most Iconic Cut-Outs
A year or two ago, the new Pope was featured in a cut-out. I didn't see him this year, but I did see Will Ferrell, The Queen of England and Dr. Thayer. I probably missed some others.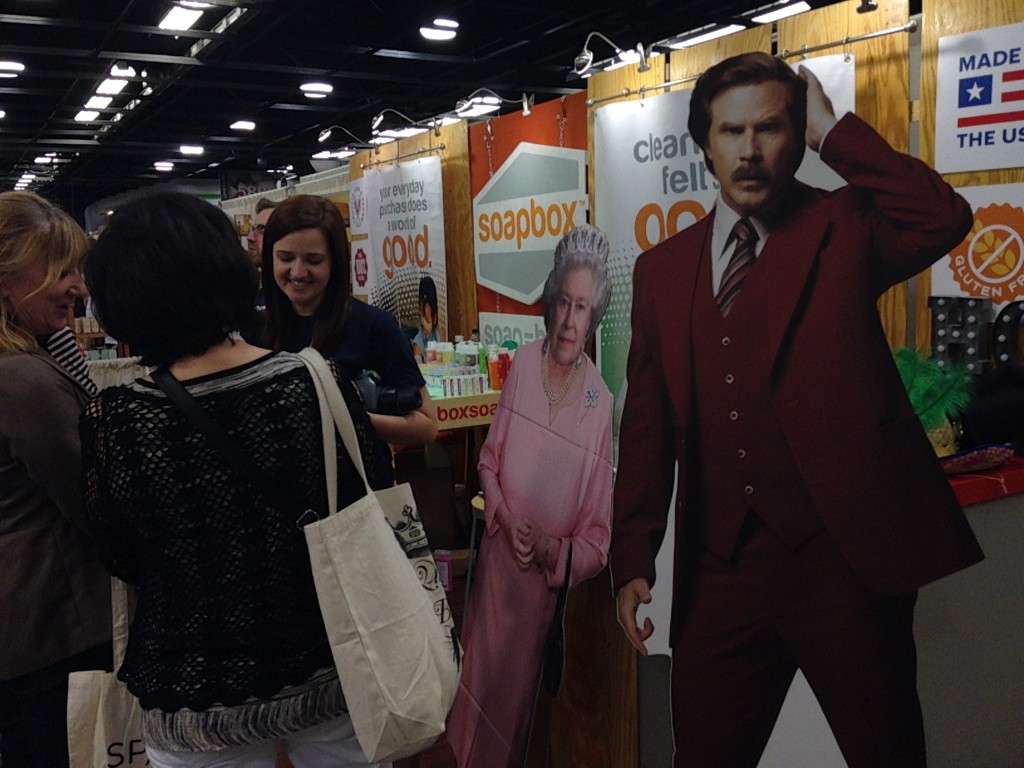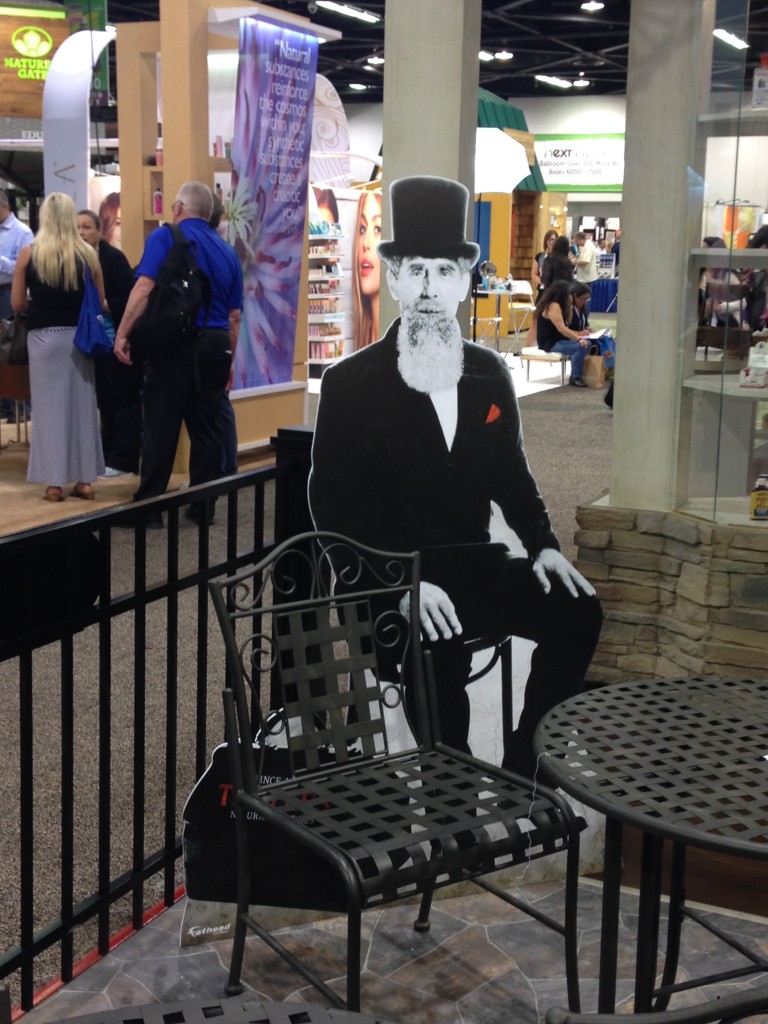 Big Ass Colorful Graphic
Natrol's booth sat up front at the entrance to the hall, and to grab people's attention, they installed a graphic that must have measured about 8' x 30'. Big. Colorful. And not the only one. The booth had big ass graphics on all sides, so you couldn't miss 'em.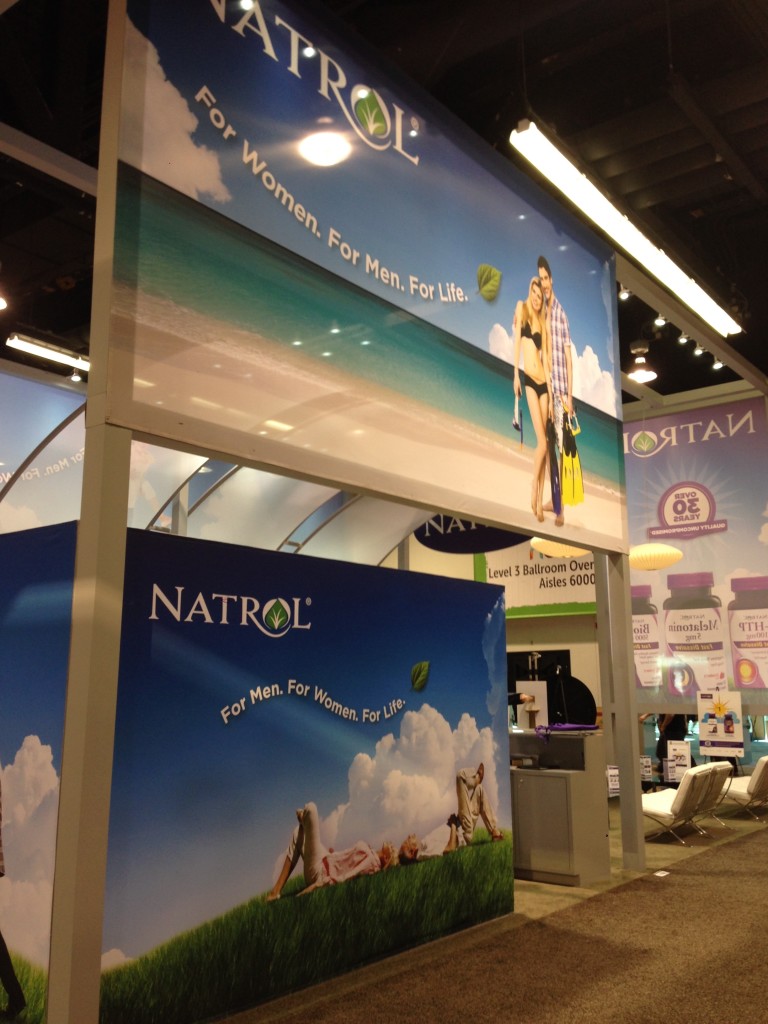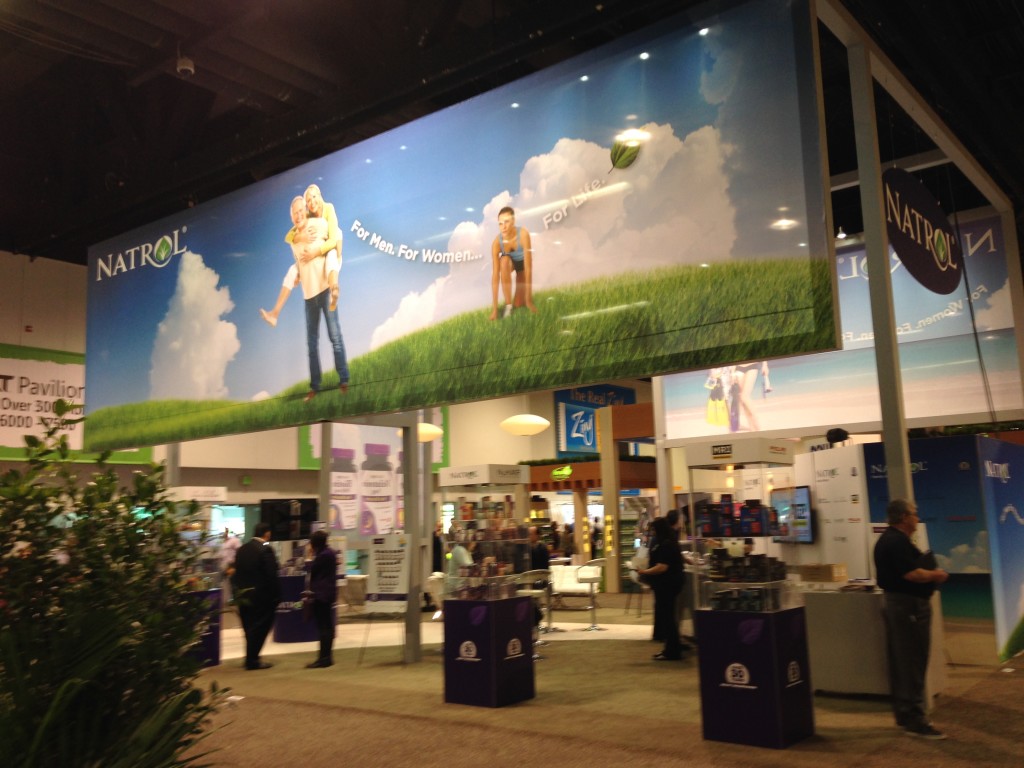 Biggest Coconuts
A large pair of coconuts on the back wall of Zico's booth caught my eye and drew me in for a taste of chilled juice blend.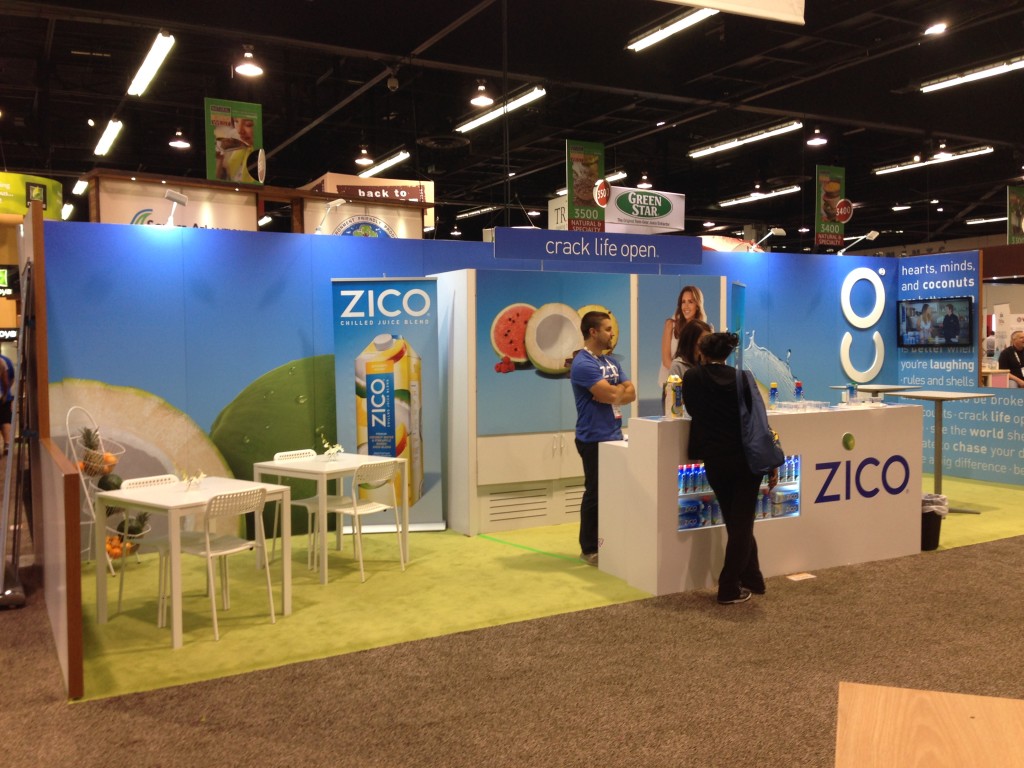 Biggest Boobs
A tough battle between Bamboobies (the girls with the pink hair) and the giant walking boobs of milkmakers, who were promoting their product with the hashtag #hoorayforboobies, and I think the boobs from milkmakers won out.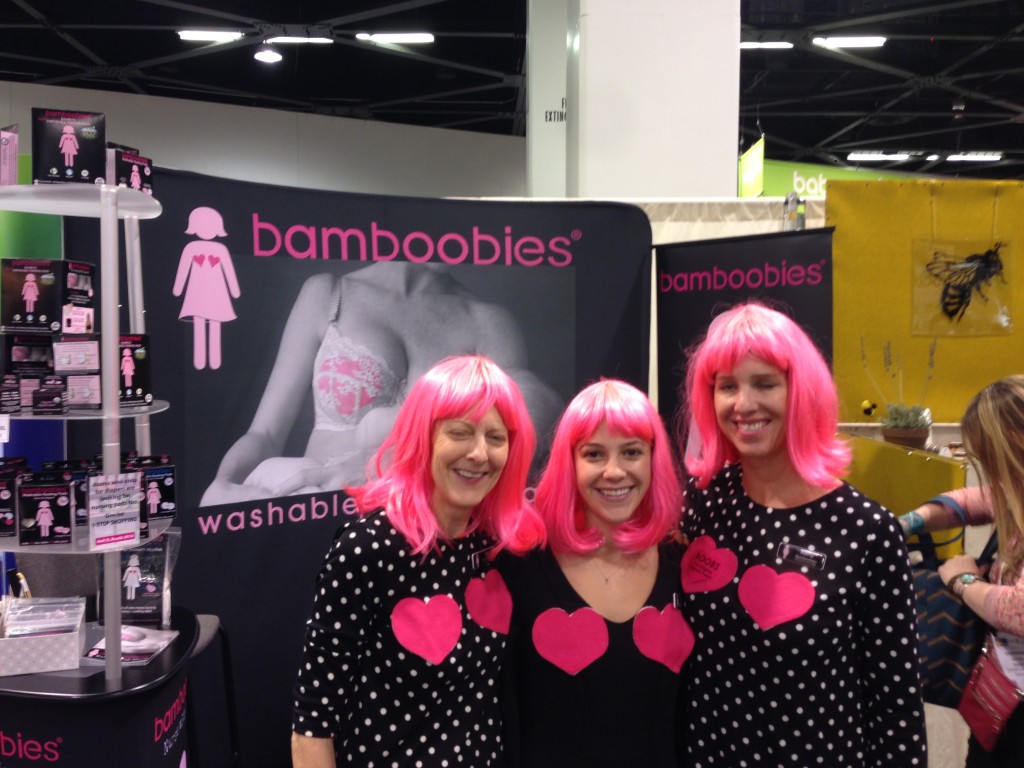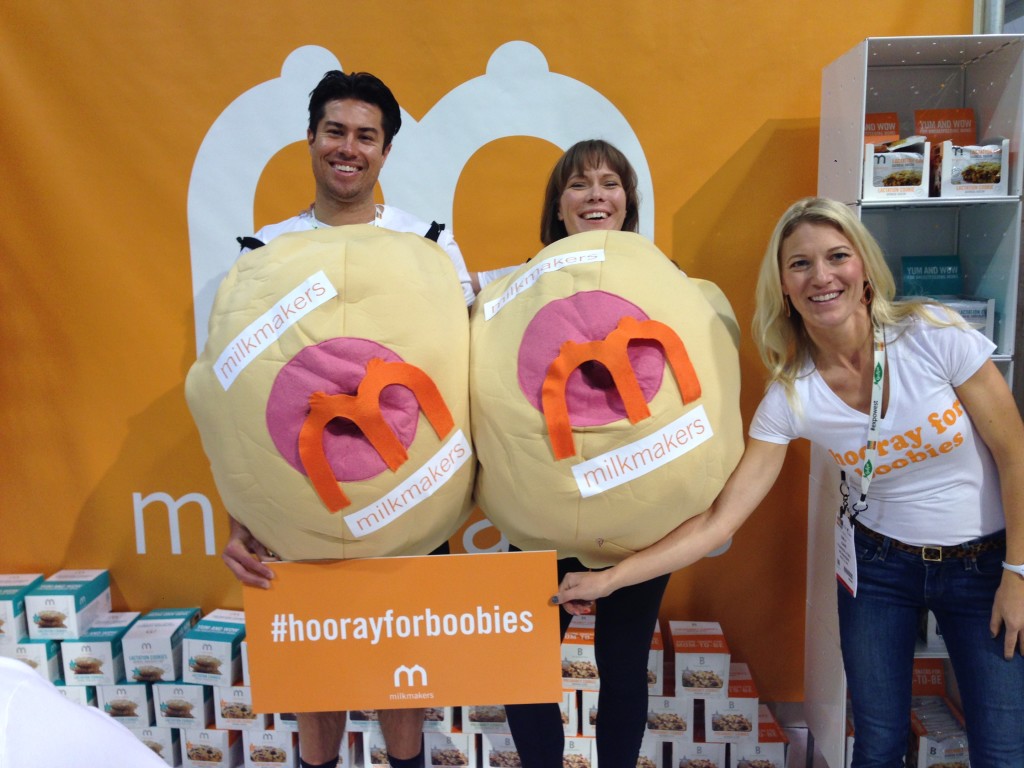 Best Stairway to Heaven (or at least the second floor)
Nature's Path showed up with a clever booth that showed a layered look from the floor to the 16 foot level, including a stairway up the middle to a private meeting area.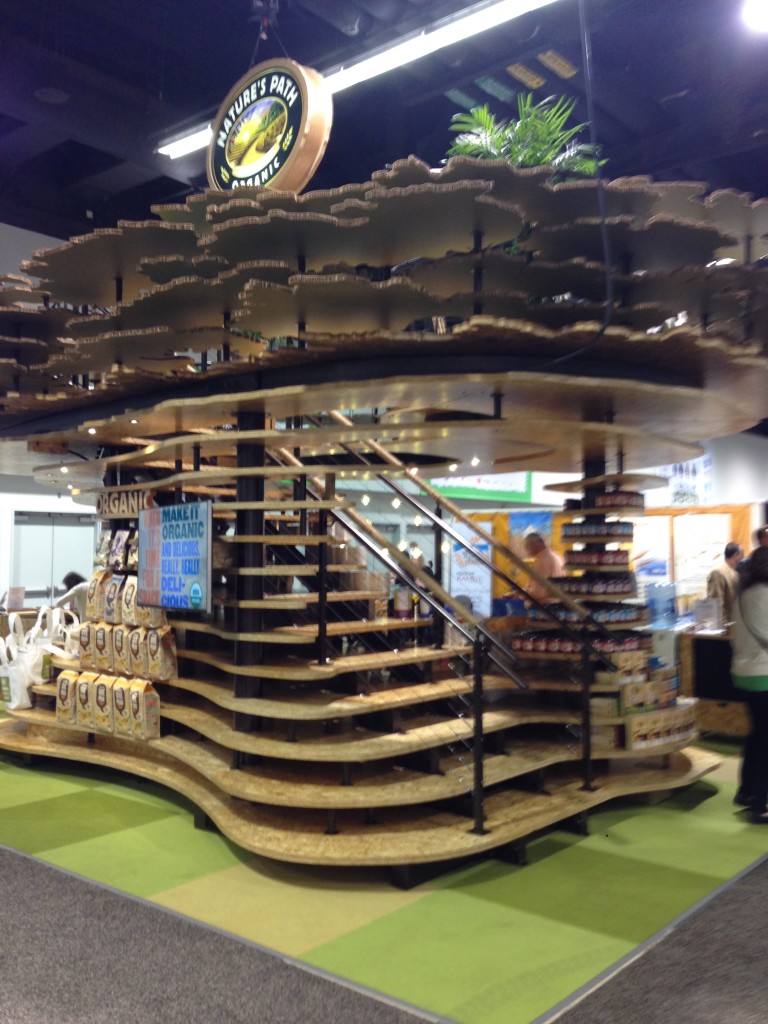 Busiest Graphic Backwall
Not always a good award to win because people don't often stop to read the whole damn thing; nonetheless, this one from Powercrunch was arresting.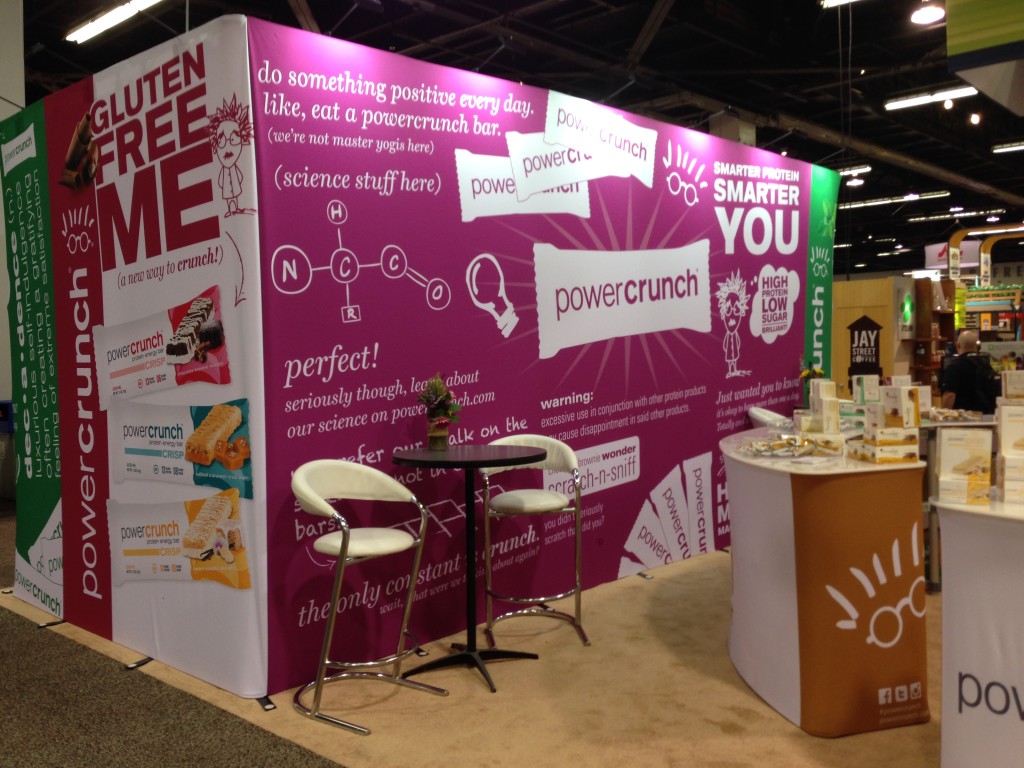 Best Iconic Brand Knockoff
While Beyond Meat will never be mistaken for McDonald's, they did work hard to pull the look and feel of Mickey D's into their booth to show how their meatless product compares. Nicely done!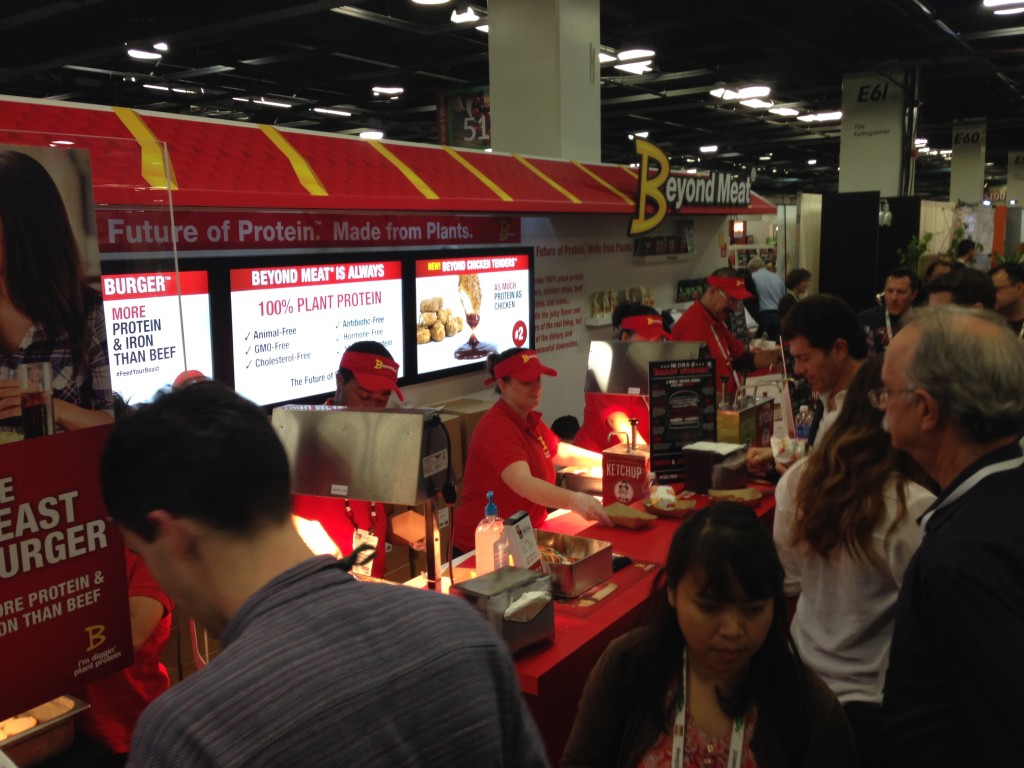 Most Elegant Look
Simplicity and function are their own reward. This was accomplished by the designers of the new booth for Portland's Pacifica.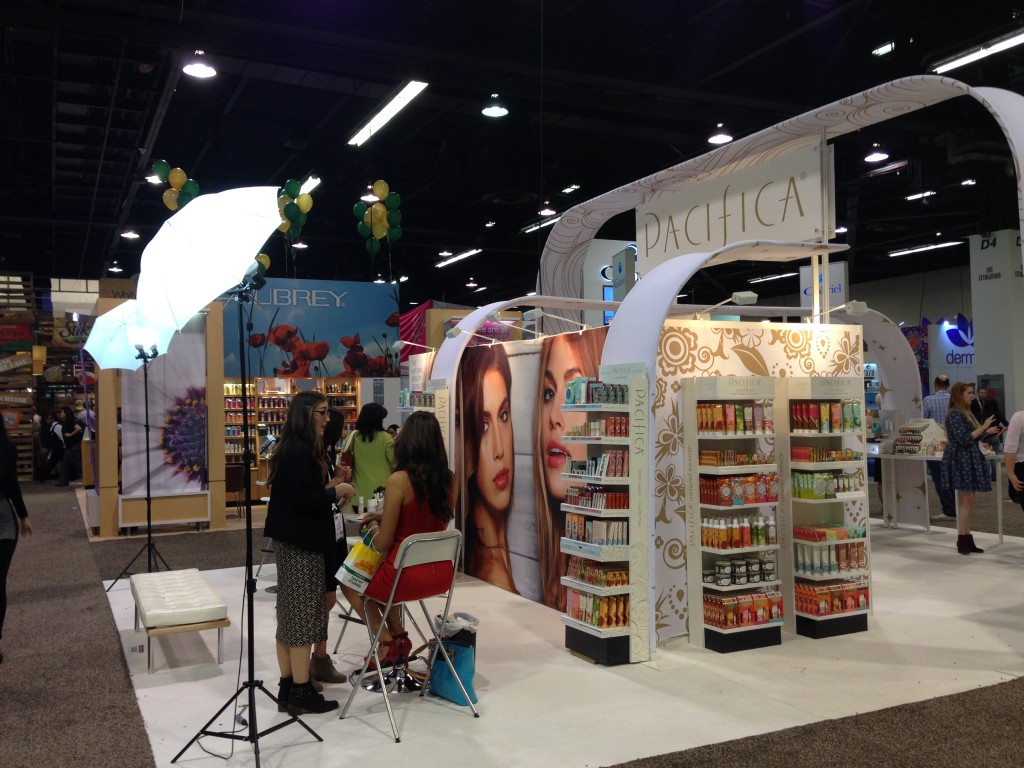 I look forward to Expo West every year; this was my 13th consecutive year at the Anaheim gathering. It's had astonishing growth in that time (and it was big back then!), and it appears to be anticipating even more growth in the next half-decade. The Natural Products Industry has done well of late with healthy and intriguing products, dramatic competition and an increasing market for those products.
Our company, Communication One Exhibits, has about a dozen current and former clients at Expo West this year, and we'd love to add more. Want a booth for your next show? Click here. We love making you look good, whether it's at Expo West or any other show.