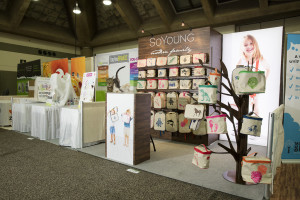 At this year's ExhibitorLIVE conference and tradeshow in Las Vegas, the annual Portable/Modular Design award were handed out. Here at TradeshowGuy Exhibits (formerly) Communication One Exhibits, we snared a design award for last summer's SoYoung 10×10 portable booth.
Keep in mind, this was not the popularity contest where everyone got to vote on their favorite design. No, this was the juried design award.
The goal of the competition was to "recognize the vendors and designers responsible for these remarkable exhibits, while also spotlight what's possible in this realm." It was the third annual version of this competition. While it appears that all of the awards have yet to be posted online, you're welcome to review winners of the first and second years.
When we were contacted by SoYoung last summer, owner Catherine Choi indicated that they were looking to upgrade their current booth, which was a bit of a mishmash of hanging shelves and display units which didn't work as well as they liked. Working with Classic Exhibits and designer Katina Rigall, we created an attractive and functional booth with a large backlit graphic, product display shelves and a unique aluminum CNC-cut display tree (which is what we think knocked it out of the park and got the judges' attention).
The booth made its debut at Expo East last fall in Baltimore and will continue its work at Expo West in Anaheim this winter and beyond.
Exhibitor Magazine made the announcement of all of the award winners on March 1st, starting with the SoYoung booth. Many thanks to Classic Exhibits and Katina for creating a beautiful, creative and functional design, and of course to SoYoung for reaching out to us for the project.
Check out our gallery of the SoYoung booth here.