As a company owner, salesman and project manager for TradeshowGuy Exhibits, I get tradeshow marketing questions. Hoobooy, I get a lot of questions. I thought it might be fun to answer a handful of the most common questions I get.
Our shipping costs are sky-high. How can we bring these costs down? Many questions are about costs, so it's a good place to start. Certainly, if something is heavy it's going to cost a lot to ship. Wood panels are heavy, and many older exhibits have a lot of wood pieces. It also adds up in drayage costs at the show. Some clients like the image that wood gives them, so they bite the bullet and build the cost of shipping into their exhibiting program. Others that want to bring the shipping costs down look at lighter materials, such as silicon-edge fabric graphic panels (SEG) that give a great look but don't have the weight and heft of wooden or other types of panels.
How can we increase our ROI? It seems that tradeshow marketing is hit and miss. Yes, investing in tradeshow marketing can be expensive, but done right, it can be a boon and open doors to markets that you wouldn't be able to otherwise reach. Sometimes it comes down to exhibiting at the right shows. It often means putting more time, energy and resources into pre-show marketing, booth staff training and a booth that accurately represents your brand (among others). There are a lot of moving parts and if you let a few of those parts go unattended to, it can contribute to your failure. I spoke with a former exhibitor recently who said the last time they exhibited was years ago and it was a bust. When we spent a few minute dissecting it, we come to the conclusion that as a small local business, one of their biggest challenges was finding a local show that could provide a large enough audience of potential customers. Without deeper digging, it was impossible to know in that brief call, but we both felt that we identified one of their most important challenges: getting in from of the right audience.
How do we work with a designer? We've never done that before. Often I end up working with exhibitors who are in a sense moving out of their comfort zone. Before now, they have purchased exhibits from a source that just shows them a catalog of pre-made items. Nothing wrong with that, there are hundreds and hundreds of modular exhibits and accessories that are more or less 'off-the-shelf' that will do a great job for you. But exhibitors will often reach the point where they have the budget and desire to move into something custom. Working with a designer is straightforward – but you have to choose a designer that knows how to design in 3D. Graphic designers typically won't have the skill to do so. However, trained 3D exhibit designers know how to design exhibits that take into account all of your functional needs: storage space, display space, foot traffic flow, graphic layout and so much more. A typically-trained graphic designer won't have the skill that a 3D designer does. As for working with a designer, it's typical to have a long conversation, either in person, or on a conference call, with the company stakeholders so that all needs are discussed. At that point the designer will create a mockup or two for review and once comments are in, changes are made until the final design is agreed upon.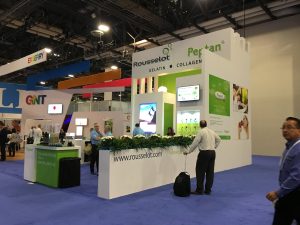 I need a new exhibit. Should I prepare and issue an RFP (Request for Proposal)? It depends. There's no definitive answer on this one. An RFP does a couple of things: it helps clarify your exhibit needs by forcing you to articulate all of your needs, budget, timeline and so on. Putting it all in black and white is a great exercise whether you're putting out an RFP or not. If you don't have an exhibit house in mind, issuing an RFP allows you to vet a handful (probably 4 – 6) companies, and make them jump through some hoops to make their case, and perhaps even do mock designs for you. On the other hand, if you have been working with an exhibit house that has done you well – has created great exhibits for you in the past, has been an effective partner for years – then no doubt you're in good shape staying with them.
How much does it cost? It's a question people don't really like to ask, but usually end up blurting it out. Some items come with a set price, like the off-the-shelf catalog items, but if they're shopping for a custom exhibit, there is no obvious answer. In my younger salesperson days, I'd answer the question with "well, what's your budget?" but that's not really a good answer. The better response I believe, is to ask them how they come up with a budget from their end. What is their process for determining how much they are willing to invest? There are industry standards – which are pretty accurate, and a good starting place – but the client has to work through a number of internal issues unique to come up with a realistic budget for their project. A final thought on this: if their internal discussion gives them a number that isn't realistic for their expectations, a reputable exhibit house will tell them so.
How quick can you get it done? Or: how long will this take? This question often comes from an exhibitor who hasn't paid close enough attention to the calendar and are now scrambling to get something in place. A recent exhibitor asked me – months (almost a year) ahead of their need  and asked "how long does the process usually take?" The question was about designing and fabricating an island booth from scratch. I silently gave him kudos for asking the question up front (and not waiting until a month or two before the show), then told him my answer: for an island exhibit, we'd love to have 3-4 months at minimum. Six months is better. But we've turned around island exhibits in 5 or 6 weeks IF the client has a really strong idea of what they want and all that's need for design is for the designer to create the rendering and confirm that the look and feel and dimensions are accurate – and then we're off to the races.
Certainly there are other questions I hear, but in reflecting the past year or two, these seem to be what come up the most-asked tradeshow marketing questions. What questions do YOU have about exhibit creation or tradeshow marketing?