Even though many clients want custom design and fabrication for a unique look, often having simple exhibits is what you really need.
In fact, many clients that I work with go to several shows. They don't take their big, deluxe, state-of-the art exhibit to all of the shows. Instead, they'll take something that can ship via UPS or FedEx, or can even be loaded into a van or SUV if it's a closer show and you have only one or two people setting up the exhibit.
In this type of situation, it often comes down to convenience in setting up, convenience in shipping, and a starkly simple look. It's all doable, and it's usually a step above what many competitors as similar shows are doing. I mean, have you seen those wrinkly vinyl banners that hang lopsided across the back of the booth, and a cheesy table cloth (or none at all) over the organizer-provided 8′ folding table? Of course you have. And you are thinking the same thing: "What can I do that's a step or two up from that, but won't break my budget?"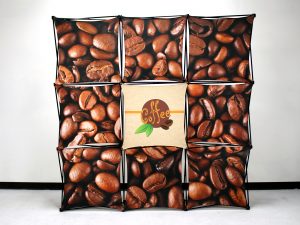 I get asked this question on a regular basis. And there's no one answer, but there are a lot of options, depending on budget. And depending on how many people might be setting up the exhibit with you.
For starters, you could start with an 8′ or 10′ graphic back wall. There are a number of options, but we like the HopUp and the VBurst and have sold many of them. The HopUp comes at a lower price point, but still provides good quality. It also comes in different sizes, up to 20′, and is available in straight or curved. The VBurst is a higher priced, but also comes with options that the HopUp doesn't deliver, such as back lit graphics. And with either, if you want to cover a 20′ (or more) back wall space, you can always set up more than one side by side. Another option is something a little different – the X-1, which comes in a variety of configurations.
What about counters? Again, it depends. Do you want a counter with lockable storage, or is an open storage shelf workable for your specific situation? We like the HopUp Counter, the Formulate Counter Pillar (and related counters), the Hybrid Pro, the Linear Pro and the Embrace counters.
Many counters can be shipped flat in a custom-jigged padded case, and can also be fabricated with charging ports. Loads to look at here.
If you do opt for using the 6′ or 8′ table, you can dress it up with a fitted table throw or a table runner.
Exhibitors often want a little more than convenience and practicality and start adding things like tables and chairs. We particularly like the OTM-100 set of two chairs and a table that breaks down and packs flat.
Simple exhibit do win. They win with convenience, ease of shipping and set-up and in pricing that doesn't break your budget. Don't let the big guys have all the fun with their fancy schmancy custom exhibits. Get some attention with simple exhibits. Hey, your boss will love it.
Check out this gallery:
---