What can you do to make your small company look bigger than it really is? And why would you want to do that? Perhaps you like the idea of being a small company, positioning yourself as a boutique company that specializes in working with a very specific type of client. A client that can afford to pay a little more for the personal service that you, as a small company, can provide.
Can They Find You?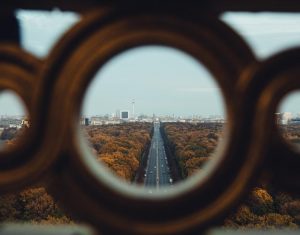 Perhaps maybe the question isn't that you should look bigger, but to make sure that the right companies are able to find you. It used to be that a prospective client would start to judge you on the size of your brick-and-mortar store. Then they'd gauge your ability to handle their needs. Sometimes a small neighborhood hardware store with personal service will serve a customer better than a big box store.
Back to the original question: how can you look bigger than you really are? And a secondary question: how do you attract the right customers?
Perception is everything, especially in a first interaction or first notice of a potential customer. What are they looking for and what do they find? I'm guessing that 98% of your potential client's first interactions will be online, even they've gotten a referral. They'll plug a search term in and click GO. They'll look through the first 5 or 6 results, click one and spend a few seconds eyeing your website, if you were lucky enough to show up in the top half-dozen search results. If they have a name of your company, they'll search directly for you.
Blogging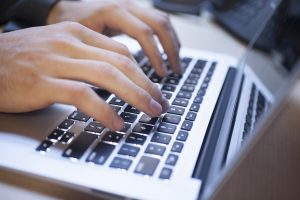 One way to appear bigger – to show that you have a larger reach than companies bigger than you – is to blog. Consistently. Hundreds of people come on the TradeshowGuy Blog every month through random searches. The most popular are the ones that might surprise you. For instance, one of the most-viewed pages so far this year has to do with how a SWOT Analysis applies to tradeshows. Yeah, really. And over half of the companies that find that blog post are not from the USA. Another interesting factoid.
The next most popular post is about skills that a tradeshow manager needs. Following that, the single page that gets the most views is how to replace paper at tradeshows using digital technology (a guest post from 2015). Followed by how to build a tradeshow-specific landing page.
With over 700 posts in the past 9+ years, the search engines have archived them all, so random tradeshow-related searches will find them.
There are that many posts because years ago I made a commitment to post regularly and write about as many tradeshow-related topics as I could think of. The goal was to just do it (because I like writing and publishing) and see what benefits might accrue.
Podcast/Vlog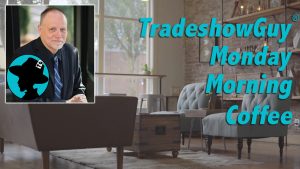 What about the page views of the TradeshowGuy Monday Morning Coffee vlog/podcast? While individual podcast posts aren't in the top ten most pages, the category search of podcasts is in the top five most-viewed. Which tells me that while a specific podcast might not get a lot of views, people are searching the category to see what's been posted recently. That tells me the podcast is gaining a little traction. Which also tells me that the time investment is worth it. Not only that, but each interview helps build relationships with those people, most (but not all) of which are in the tradeshow industry.
Someone asked me once if blogging, podcasting, publishing a weekly newsletter, posting videos on YouTube channel and spending time on social media actually gets me business. In other words, they're asking if they should make the time and energy commitment to see if it gets them business? There is not a simply answer to that question. Let's look at where business comes from. In 2016, 2/3 of our business at TradeshowGuy Exhibits came from people that found us online. In 2017, it was less than ten percent. In 2018, there's not much to show on the bottom line (yet) as a direct consequence of people finding the blog and then contacting us to make a purchase or to inquire about a project. But when I do communication with people, either through cold calling, prospecting with people I know, or via email, when I bring up the blog or send a link to a pertinent blog post, the feedback is always positive. Especially when they see the depth of article on the blog with the number and types of posts (video, audio, photographic, lists, etc.).
YouTube Channel
Speaking of video, I've had a YouTube channel for almost a decade. In the beginning I had no idea what I was doing other than creating a few how-to videos and tradeshow advice and posting them. It wasn't regular and not many of them were viewed more than a few dozen times. Although the first ever post has over a thousand view. In a sense, that's still the case, although I do create a video version of my podcast and post it there as another way to get the content out there.
And that's what all of that is about: creating content. Always. It's not easy, but having done it for years, it's not that hard, either. I just make time to do it.
Does the blog make TradeshowGuy Exhibits look bigger? In a sense, yes. So does the weekly podcast/vlog and the newsletter. It puts more and more materials out there online where searchers can find us.
Exhibit Design Search
Frankly, so does the Exhibit Design Search, which is a branded search tool that looks just like it's part of our lineup of websites. EDS is the work of our main design and fabrication partner, Classic Exhibits, and we use it all the time. When we send some ideas from EDS to potential clients the reaction is often "Wow! I had no idea you could do all of that!" Aligning yourself with a company that offers such a great tool definitely makes us look bigger.
I'd add that using solid sales techniques, creating and executing a plan is part of the process of making TradeshowGuy Exhibits look or feel bigger than it might really be. I spent a year with Sandler Sales Training and picked up a ton of great ideas and techniques along with good strategy and a much better understanding of how buyers operate. Knowing how to approach people in a non-threatening way with an eye to understanding their needs has been valuable to the success we've had.
Other Websites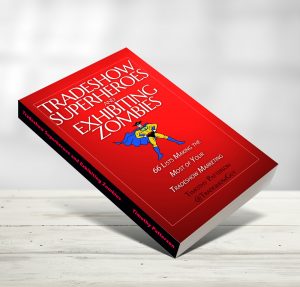 We also have a handful of other URLs that are used for various purposes. For example, TradeshowSuccessBook.com is a landing page that offers a free digital download of my first book in exchange for subscribing to my newsletter. TradeshowSuperheroes.com is a book-specific page solely for the purpose of promoting and sharing info on my second book. TradeshowExhibitBuyersKit.com is a landing page to promote a package of tools we put together aimed at potential exhibit buyers (as you might imagine!). And TradeshowGuyWebinars.com is a collection of webinars we've put on at TradeshowGuy Exhibits.
Social Media
If you've followed me for any length of time, you are probably aware that I've been active on social media from the very beginning. That happened because I like to play with new toys, and social media seemed like something fun to play with. I've bounced back and forth from Twitter to Pinterest, from YouTube to LinkedIn, to Instagram and Facebook and back. It's a great to engage with people, share opinions, point to blog posts and podcasts, and to see what other people are up to. I'd rank the usefulness and effectiveness by putting Twitter on top, followed by YouTube, then LinkedIn, Instagram, Facebook and Pinterest. But that's subject to change!
Making the Clients Look Good
Finally, what's important to me is that when we deal with clients and prospects, we want them to know a couple of things: when you work with TradeshowGuy, you're almost always working directly with the head of the company. And secondly, we want you to know that our success is tied directly to yours. If we make a company's tradeshow manager look good to their boss by doing a great job, by providing an excellent service, by designing and fabricating an exhibit that gets extremely positive feedback, we've done our job. If we make you look good, we feel good. By standing tall when it comes to delivering great products and service, no matter our size, we look gigantic to our clients. It's as simple as that.