This is a guest post by Marla Bracco.
Preparing for a tradeshow takes time and effort, which you may already know if you've participated in a tradeshow in the past. That being said, it helps to have a checklist on hand to make sure you get everything just right before the big day.
Below we've outlined the ultimate tradeshow booth checklist for you to use before your next show to boost your efficiency and marketing ROI.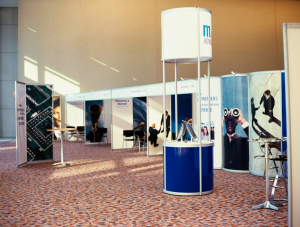 Research the exhibitor space and show beforehand.
Do you know where your booth is located at the event? If you have the opportunity to pick your spot, think about selecting an area near the entrance where you can meet and greet people as soon as they walk in. Once you have your booth location nailed down, don't forget to promote it. Advertising your presence at the event can drive more foot traffic.
Plan out your booth ahead of time.
You and your team should have a good idea of what type of graphics you will be using and how the space will be set up before the event. Will you have a custom exhibit or table top with a table cover? Will you have a booth backdrop? What about signage? These are all factors you'll want to consider beforehand.
In addition, don't forget about your marketing collateral. Your marketing team should have informational materials to give out to those who come by your booth and want to learn more about your products and services. After deciding on the right pieces, feature pamphlets prominently in literature stands or on tabletops so potential customers can easily grab them.
Engage in pre-show promotion.
Emails, social media, and direct mail are all ways you can drive traffic to your booth when the big day comes. Think about creating a marketing campaign centered around the trade show to raise awareness of your presence at the event before it officially kicks off. You can also often promote your presence with the organizers of the show itself whether that be via email or an advertisement in the conference agenda.
Come up with a plan to drive traffic to your booth.
Think about creating a giveaway program to encourage attendees to stop by your booth. Consider a raffle where you give away a prize on display at the actual event. An acrylic locked box can be used to hold the prize safely until it's time to award it to the raffle winner.
You may also want to use tradeshow banners to drive traffic to your booth. If you want to go the extra mile, think about hosting a small event at your booth, such as a coffee hour, for networking with people who stop by your area. Finally, don't forget about offering freebies to those who come by your booth. Marketing materials, such as branded pens and keychains, can help you stick out in the mind of booth visitors long after they drop by your stand.
Create a plan for collecting leads.
Will your team have lead scanners or will you be simply collecting business cards? These are questions you'll want to have answered before the big day. Think about using a tablet to collect attendee information with a form that connects directly to your CRM system to streamline the lead collection process. Tablet stands and holders can be beneficial at your booth for this reason.
Final Thoughts
While planning a tradeshow does require a certain amount of flexibility, having this checklist on hand can give you the best chance at making the most of your marketing opportunity. Follow these tips and you're sure to be off to a good start for your next show.
---
Marla Bracco is the content marketing manager for shopPOPdisplays where she focuses on content strategy and search engine marketing, designed to help the organization shape their web content around digital marketing objectives and priorities.
---