This is a guest post by Kayleigh Alexander from Micro Startups.
So you've had a successful tradeshow, meeting lots of new potential customers and contacts and generated awareness and sales for your product or service.
But the work doesn't stop there. The post-event period is crucial for capitalizing on your tradeshow success and promoting your next event.
Read on for five cool ideas for great post-event content that will grow your business and ramp up attendance for your next tradeshow.
Collate attendee quotes for some quick content
One great idea for some stellar post-event content is a review piece by your attendees. During your tradeshow, you were probably laden down with business cards, coffee plans, LinkedIn requests, and Twitter follows.
Consequently, you've got a huge bank of people to source post-event reviews from. Reach out to your new contacts with a personalized message and ask them how they found your event, what they took away, what the most memorable point was, and so on.
Compile all these quotes into a single piece, crediting your attendee and linking out to their LinkedIn page or website. It's quick content that serves as the perfect marketing piece for your next tradeshow.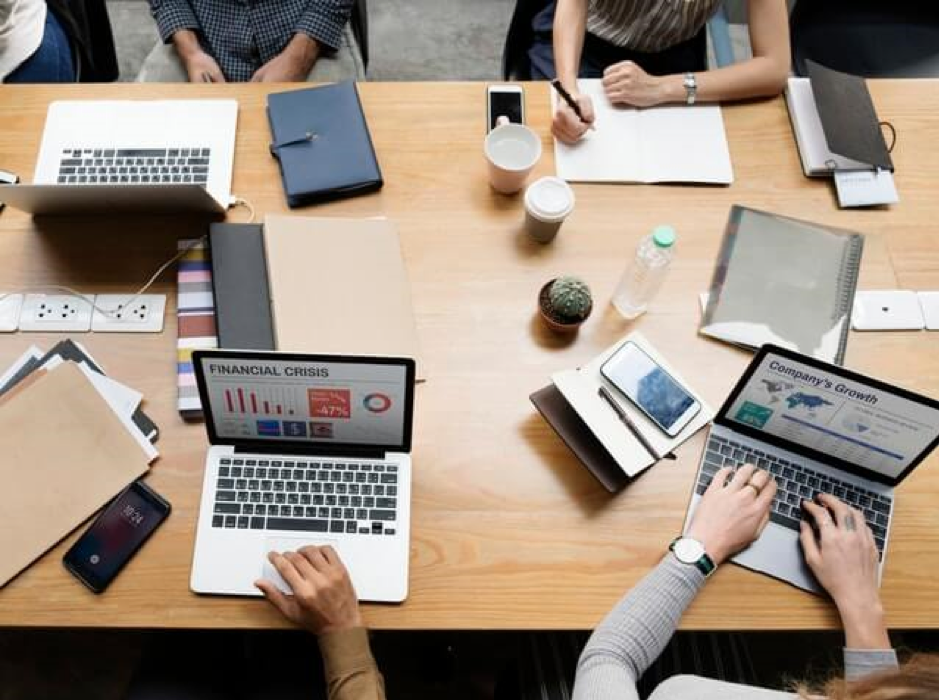 Reach out to industry figures for their thoughts
As well as reaching out to your contacts and attendees, why not reach out to notable industry figures for a post-event review too? These influencers are respected in their field, and can provide insightful opinions on your tradeshow.
When you contact these influencers, bear in mind that they probably receive a lot of contact from their peers. Keep it professional and to-the-point.
If they're happy to provide a quote, do the same as you did with your attendees and ask for their insights, favorite exhibit, and any actionable takeaways they can provide. Again, this makes for some valuable post-event content that's easy to collate.
The key here is immediacy. Don't wait a week after the event to make this content — the sooner after the event, the better.
Offer your own post-event takeaways
Beyond reaching out to your attendees and industry influencers for their thoughts, just as valuable are your own opinions. Break down your tradeshow and describe how the day went, who attended, and what attendees were able to take away.
A post-event review from your own perspective keeps your tradeshow in the mind of your attendees. Invite comments from those who attended your event and encourage them to respond with their own thanks and thoughts.
And as well as providing some useful post-event content, this also helps those who weren't able to attend your tradeshow see what they missed.
Check out search trend data to create targeted content
After your tradeshow, the chances are that your attendees have a lot of questions. While many of them were asked during the event, plenty of attendees will turn to Google afterwards for more information.
This gives you the perfect opportunity to create content that addresses these questions, directing people to your blog after your tradeshow to drive up engagement. Use search data trends to spot what your attendees and customers are searching for online after your tradeshow.
For example, you might spot spikes in certain search terms related to a new product you demonstrated. Create content that goes into greater detail about this, and share it across your marketing channels. This addresses your attendees' questions and keeps them engaged with your business.
Cascade tradeshow video across your marketing channels
Video is a powerful content format that's popular with your audience and great for post-event marketing. It's cheap to source and with the proliferation of free online video editors, it's easy to create a slick video piece too.
Hopefully, you will have recorded plenty of video during your tradeshow. Interviews with attendees, product demos, meet and greets, talks and Q&As — these all make for strong post-event content that you can
If you used Instagram to promote your event on the day, it's still possible to download it and reuse it across your website and email channels. Use the Repost For Instagram app to download the original clip from your social feed and cascade across the rest of your post-event marketing.
Invite interaction with a pop quiz
One piece of post-event content that is guaranteed to delight your audience is a quiz. Quizzes are fun, engaging, and great for creating discussion after an event.
Use a free quiz maker to create a quick test of your attendees' knowledge. Write questions that reveal more about your business, product, or service. For example: "how many states did we expand into in 2018?" or "what was the number one reason why customers used this product last year?" — it's up to you.
This doesn't need to be particularly demanding — the emphasis here is on fun rather than competition. You could even turn this into a lead generation exercise, offering people the chance to win if they provide their email address when they complete the quiz.
The period immediately after your tradeshow is ripe for boosting your business and marketing your next event. Use the ideas above to create a great post-tradeshow content strategy that will keep you going for time to come.
---
MicroStartups helps aspiring entrepreneurs achieve their dreams, however big or small. We love sharing the microbusiness message around the world.