The exhibit halls at the Natural Products Expo West closed Saturday at 4 pm. By then, exhibitors were handing our their remaining samples, packing up things they could and getting ready to grab flights home. The last day of a big show like this one is always a bit different. Not as many attendees as the first couple of days (although still very busy), which left staffers with a little more time to chat in a relaxed mode.
Which is a great opportunity to meet people. Which I did. Even though I was pretty much dead on my feet by mid-day, I kept pushing through, knowing the end was in sight. I spent some of the day checking in with all of our clients that we had scheduled for dismantle the next day to make sure paperwork was all in place. Things don't move in a tradeshow without the right paperwork!
Saturday started early by assisting in the dismantling of a new exhibit for a new client, Hop Tea, from Boulder, Colorado. They were set up in the hot new products section of the Hilton Ballroom, which meant that their exhibiting schedule ended a day earlier than the main halls in the convention center. I'm told they won a Nexty Award for new products, and their business – less than a year old – is off to a quick start. Glad to be able to be a part!
By the end of the day, I was done. Beat. Exhausted. So it was back to the Airbnb for a relaxing night, the only one of my 6-day trip. Friday night it was fun to spend nearly two hours at the Oregon Business gathering at McCormick and Schmick's near the convention center. It's a gathering that has happened for several years, and is designed to show off Oregon products from companies that may not necessarily be exhibiting at the show. Food and libations and good conversations flowed.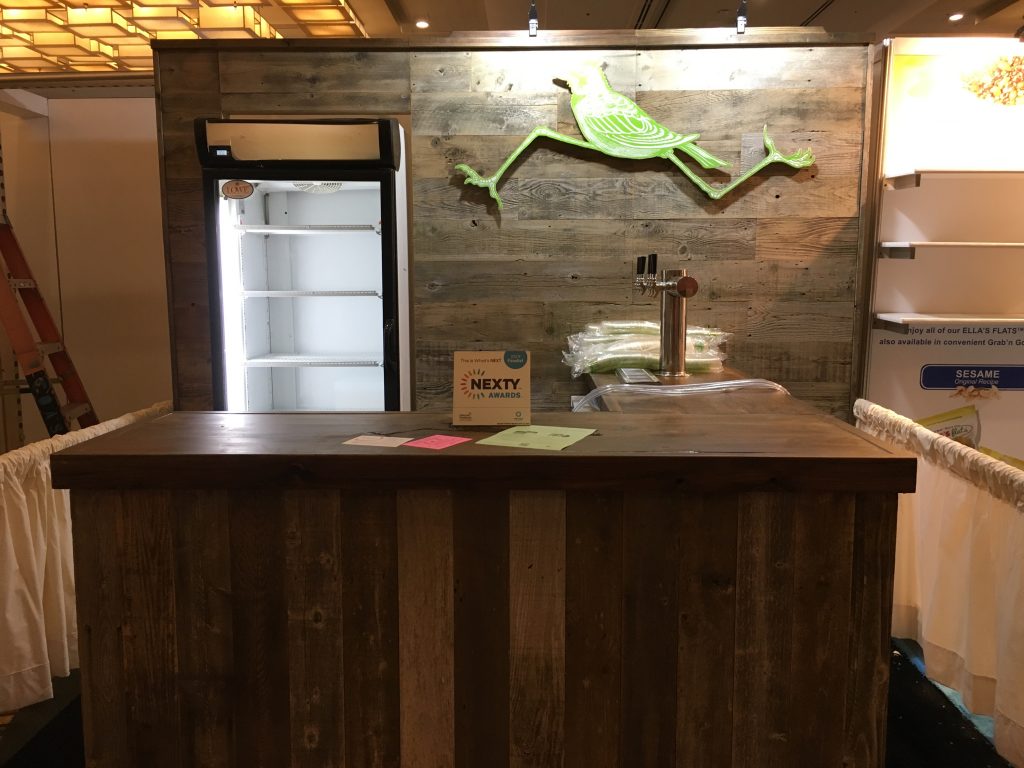 Sunday morning it was the dismantling. I was overseeing the takedowns of five booths by Eagle Management, which has proven to be a good partner: resourceful, efficient and generally quick to get things done. My job was mainly to make sure things were happening in a timely manner, and taking care of the paperwork: shipping BOL's, printing shipping labels, etc. I admit I find it fascinating to see the before and after (and the during) of big shows. Once the show is over, hundreds of union workers come in and dismantle things quickly. It's a helluva sight, really. Even though our truck was in line to pick up crates by the check-in time of 8 am, they weren't able to load freight and leave until after midnight. Crazy, I know. Yes, it's a busy show and hundreds if not thousands of trucks are all in a queue awaiting their call.
Overall impressions this year? It seemed busier than last year, if that is possible. New Hope usually posts their press release with exhibitor and attendee numbers within a few days of show close, so it'll be interesting to review this this week.
From the list of exhibitors I visited last year, 25-30% of them were not at this year's show. Big shows like this are expensive, and not all companies are ready to hit the big time and try to connect with thousands of buyers, brokers and retailers. That doesn't keep younger, smaller companies from trying, though. Often the difference between success and failure at this level is having and executing a good plan, no matter what type of exhibit you have.
Later in the week, I'll post photos of our clients at this show. Meantime, here are a few more clicks from the last day or so of Expo West: