Are you faced with authors call "writer's block" when it comes to coming up with ideas for your next tradeshow promotion? Or need to come up with a unique exhibit design or presentation that perfectly fits your company brand?
I wish I had an answer. You know, like the Staples "EASY" button. But it ain't that easy. Not if you want an idea that can be fully executed and give you remarkable results.
So where do ideas come from? Ideas that actually work?
There are several places to look for and generate ideas, so let's go over a few.
What have other people done?
At your next tradeshow, whether you are an exhibitor or an attendee, take some time to walk the floor and see what others have done. There are going to be so many ideas that you won't be able to capture them all. And to take it one step further, if you see an idea you like, imagine how it would work if you folded that presentation idea into your brand and products. And you know that anything you see at a tradeshow had to go through a lot to make it to the floor. It had to be created as a concept, then discussed at length to see what would work and what wouldn't. Then a 3D designer had to determine how to put that concept into the real world. Then, once all parties had signed off on the idea and concept, it had to go to fabrication, where the builders had to figure out how to build it. Not always easy, especially if there are some unusual or outlandish ideas that need to be brought to life.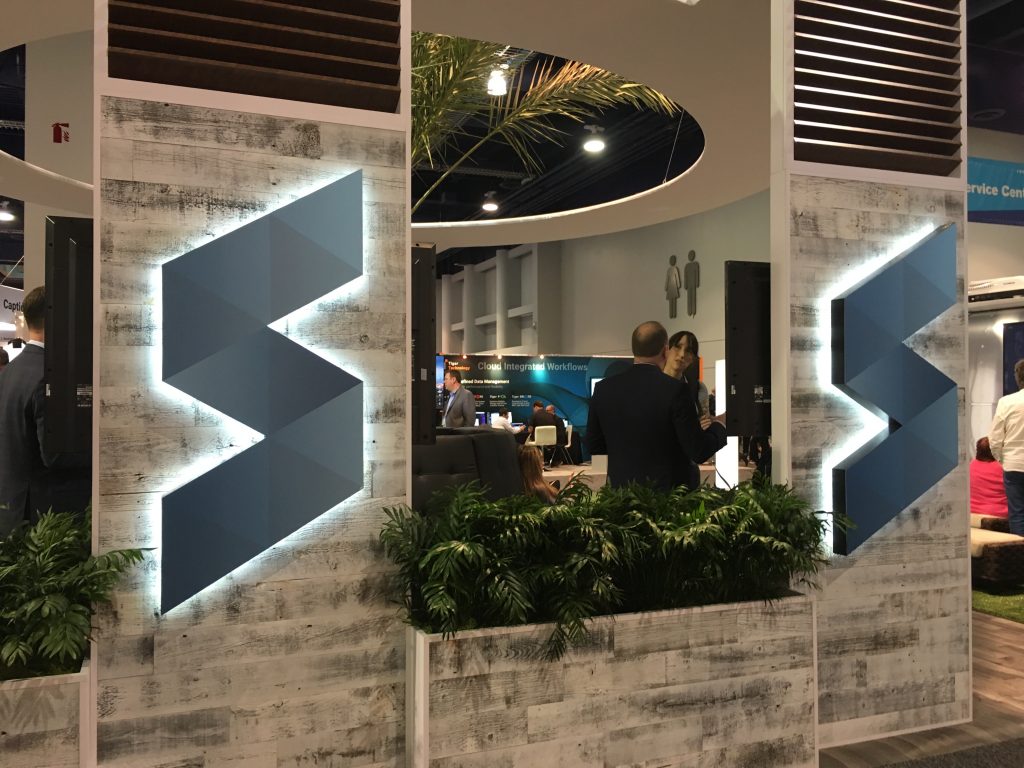 But remember, just because it was brought to life and used at a tradeshow doesn't mean it actually worked, that it actually achieved what the creators thought it would achieve. Which means it's also worth asking "how well did that work?" Probably the only way to find out for sure is to ask the exhibiting company after the show how it all went for them. But by doing that you might be tipping your hand that you'd like to use their idea for inspiration!
What gets written about?
To see what is creative and actually works, pick up a copy of Exhibitor Magazine. To my way of thinking, all tradeshow marketing managers should get a subscription to this bible of the exhibit industry. Nearly every issue there is an in-depth look at tradeshow exhibits. Not only that, there is a breakdown of how the idea worked, how it fit with the company's overall goals, what the results were, and often the cost. Even if the idea doesn't exactly fit with your product or brand, use it to kickstart your own creative thinking.
Beyond Exhibitor Magazine, search online for creative tradeshow exhibit ideas. There are a lot of them floating around, and any one of them might be the inspiration you're looking for.
Talk to others in the industry.
Networking can do a lot of things. One thing it does well is spread good ideas. By talking to other exhibitors, designers, managers and executives in the industry is that no doubt they've all seen some memorable tradeshow exhibits along the way. Ask them what they recall, what they liked, and how it worked. Make notes. And if you get a great idea that leads to something, be sure to thank 'em!
Brainstorm.
Creative thinking can often be generated in-house with a handful of people. You may have even been in a brainstorming session or three in your career. If done properly, they can be brief and productive.
Combining ideas from other sources.
Pick up a book on creative thinking and see where it takes you. One of my favorites is Thinkertoys by Michael Michalko. Worth the price no matter what you pay.
Any other books or ideas you like that help you creatively? Make a note and share!