I thought it might be fun to see what people have gravitated to on this blog when it comes to the weekly vlog/podcast I do under the title TradeshowGuy Monday Morning Coffee. The podcast is more or less a diary of my business and more broadly, the event and tradeshow industry, and beyond that, the business world. Or at least what interests me on any given day.
I don't always have interviews on the show, but they're always fun. I love speaking with industry colleagues and getting to know them, even though most of them are only "Zoom" friends, and we aren't sitting down across a table for coffee!
Still, they're enlightening and fun. Here are the top five most-viewed based on analytics looking back twelve months.
Number Five (we're counting down to Number One!): Dominic Rubino of BizStratPlan.com talked about an easy formula for difficult business conversations.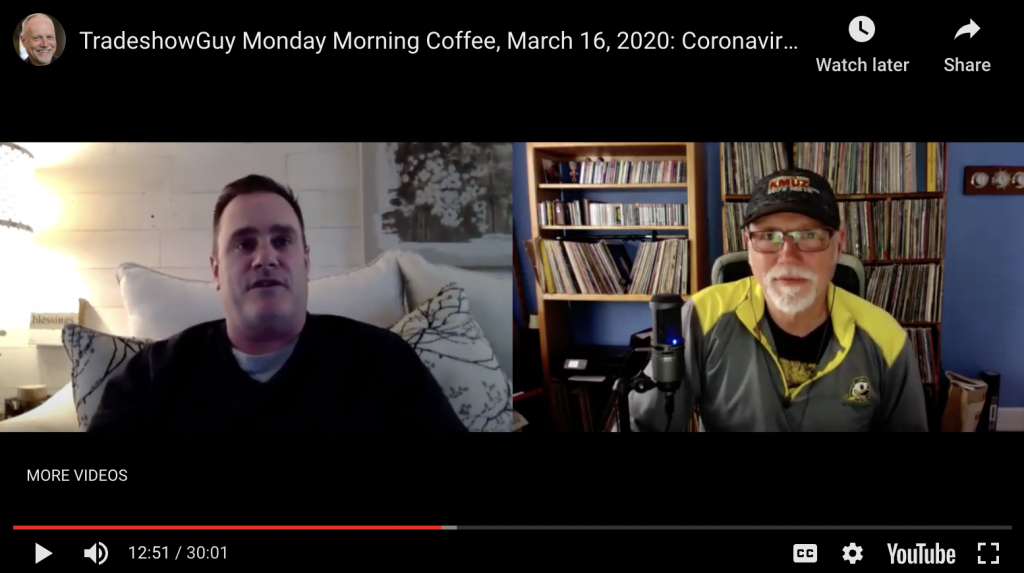 Number Four: Phil Gorski of Ava-Nee Productions and his company's VR approach to tradeshow exhibits (and other fun things).
Number Three: Danny Orleans is a tradeshow entertainer and Chief Magic Officer at Corporate Magic LTD.
Number Two: Joan Stewart, the Publicity Hound, offered numerous tips on creating publicity at tradeshows. Worth another look. Bring your notepad.
Number One: a long-ranging discussion from March with Kevin Carty of Classic Exhibits, Marcus Vahle of Share Experience Company and Andy Saks of Spark Presentations.
Grab our free report "7 Questions You'll Never Ask Your Exhibit House" – click here!