If you've been on Twitter a bit but still are confused about how hashtags are, and can, be used, hopefully we can take a bit of the mystery out of hashtags and give you some good ways to use them in conjunction with your event and tradeshow marketing.
First, what exactly is a hashtag?
Simply put, it's the 'pound' or 'number' sign with a word or phrase after it: #jumpstart. This makes it easily trackable and searchable on Twitter or other platforms such as Hootsuite.com. You can use it with a two or three word phrase, but make sure there is no space between the words, like this: #tweetmetoday

Tweeting at Tradeshows
Use it when you tweet about a specific or general topic, such as #eventprofs when your tweet is related to the event profession. If you are tweeting about a specific event, use a hashtag that would commonly be used for that event, such as #expowest for the Natural Products Expo West show, held every March in Anaheim.
So if you're tweeting out about your booth, just make sure to include that particular hashtag: "Hey, join us at booth 3029 at #expowest and check out the new eco-friendly shoes!"
That way, anyone who is tracking the show hashtag will be able to find it (Twitter will show search results starting with the most recent).
If you're tweeting about something you or your company is doing at the show after hours, such as a client dinner, you might consider using the hashtag so that anyone following along can see how you're involved: "Having a great dinner with the cool people from Bagga Riddim here at Joe's Pizza! #expowest"
Whether you want to tell the world that you're meeting a client is up to you, but in my mind in most cases there is nothing wrong with it. In fact it could be seen as good branding. Not only are you getting your name out there again, you're getting it out there in connection with a client and a location. If you use Foursquare to check in, the location will be mentioned, so all you have to do it include the hashtag in the tweet.
Getting Twitter Involvement on Webinars
Let's say the show is still a couple of months away, and you're planning a webinar to promote your appearance (see this week's earlier post about using webinars to promote tradeshows). You've got a new product to promote; you have one of the company management or marketing people on board to be a guest on the webinar. At the beginning of the webinar, include a slide that invites people to offer their comments on twitter. My suggestion is to use two hashtags: one that references the show and one that references your company: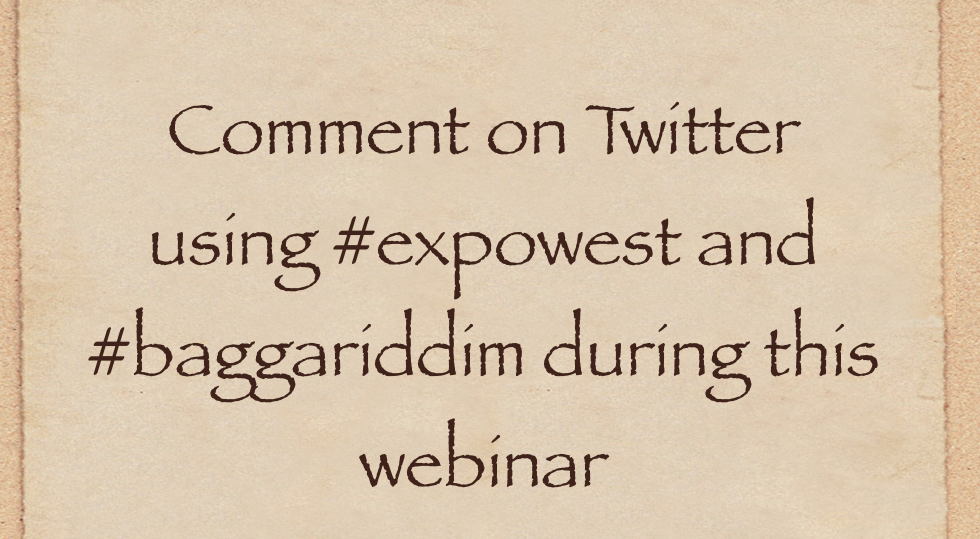 This invites people to watch the webinar and relay their comments to their Twitter followers. Anyone who happens to be searching for that particular hashtag at that time will likely run across your webinar, which exposes you to even more people. Before the webinar you can promote it through your normal channels, but be sure to let your Facebook and Twitter followers know about it, too, and include links to the registration page.
Of course this same tactic can be used during your live presentation at the tradeshow or conference if you're a speaker or presenter. The upside is that it can really help engage people, learn new things from them, take questions and promote interactivity. The downside is that if the presentation is going badly, you have no control over the conversation and may see some negative or snarky comments show up.
Twitter Chats
Another way to use Twitter is to hold a chat about a specific topic or subject. There are popular Twitter chats held regularly that discuss everything from marketing to industrial metal production. All you have to do is promote it through your normal channels, and through your Twitter account:
Join us for a chat about how to use drums to heal your soul: Thursday at noon ET; follow hashtag #baggariddim
If you have a guest on the chat, set up a handful of questions before hand that she's familiar with. When the time arrives, welcome everyone to the chat and include the hashtag. People will follow along on the chat by simply searching for the hashtag in the Twitter search box. Invite anyone to submit questions and comments as the chat goes on. Schedule the chat with specific start and stop times (noon – 1pm, for instance), and stick to it. After the chat is over, archive the posts so that you can reference then in the future if need be.
Twitter is an extremely useful and flexible tool for instant communication anywhere, anytime. From the show floor, from your office, from the subway. It doesn't matter, all a person needs is internet access and they're on board.
What ideas can you come up with to use Twitter to effectively promote your tradeshow appearance or new product?