So you wanna create social media buzz before the tradeshow but aren't sure exactly how to pull it off? Of course there are dozens of strategies and tactics that will raise your profile above the average company, but not all will work in all situations and of course nothing is guaranteed. Your tweets and Instagram posts could be swept away by an unforeseen event or distraction that swoops up the eyeballs you were hoping to grab!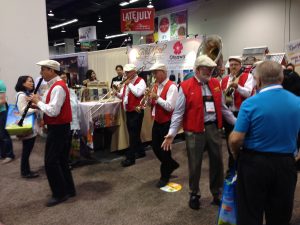 One of the most memorable methods was one I saw years ago when Griffin refurbished an old VW bus and drove across the country for a couple of weeks, tweeting and posting photos and videos all the way. By the time they drove the bus onto the tradeshow floor, hundreds of people were waiting for them. So you might consider how to play up your travel to the event. It might grab attention if it's different than the norm. Anyone want to bounce from SF to LA on a pogostick wearing a branded shirt? Hey, just a thought!
So here are some more thoughts and ideas on how to create a little social media buzz prior to the show:
Know the show hashtag, so that everything you put out is trackable and findable by show followers, whether they follow your actual account or not.
If you have new products or services, create a teaser video or three and get them out onto your social media platforms.
Maybe you're going to debut a new exhibit at the show. Work with your exhibit house to tease elements of the exhibit with photos prior to the show.
Consider creating a special landing page on your website just for the show. Let people make appointments, view more videos, learn about new products, get invited to parties, sign up for email or text notifications, whatever.
If you have a company CEO or other management member speaking at the show or being part of a panel, be sure to include that in any information you post. And if you're sponsoring a specific event or area of the show, don't forget that.
Got a contest or something else to draw people to your booth? Start promoting the contest online a week or so prior to the show. Any sooner and it becomes old quickly. Wait too long and you won't reach as many people.
Create a special hashtag just for your company for just this show and invite people to post photos of themselves wearing your product using the hashtag. Draw several prize winners from among the photos during the show and give away a bunch of your products to both show attendees and those that weren't able to attend.
By engaging with attendees prior to the show, you create social media buzz that increases the odds you'll draw more people to your booth during the show. If you manage to come up with this year's VW bus promotion that goes viral, you might even get a raise!