If you're standing at the edge of your tradeshow booth ready to engage with a visitor, remember that as try you qualify him or her, you're really trying to find the prospect's real issue. Once you do that, you can determine if you can be of assistance, or if you can't.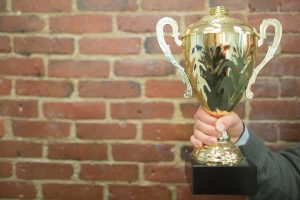 Tradeshow selling take place in a chaotic environment. Hundreds or thousands of competing exhibitors, and thousands or tens of thousands of attendees means everyone is vying for attention and they all have their own personal agenda. So when you get an opportunity to interact with a booth visitor, the best recipe for a successful encounter is to know where you want to go.
And often that destination is reached by trying to uncover the prospect's real issue. How do you do that? By asking questions.
Let's say you're exhibiting at a show to get more leads for your IT business such as virus eradication and firewalls and related services Your visitor mention that they think their IT department is doing okay. That's a bit of an opening – not much – but it should give you an opportunity to peel back the onion a bit.
"When you say that 'you think' the IT department is doing okay, what do you mean?"
They may tell you that from what their IT guy says, they seem to have dealt with most of the recent viruses with a rebuilt firewall. Or something. He's not an IT guy.
"What do you mean by most? Can you tell me more?"
They go on to say that the IT guy only "swore for half the day" earlier in the week at something-or-other that was taking up all his time instead of being able to add on to the network which he was supposed to be doing.
"So your network administrator only 'swore for half the day' at having to deal with viruses? It sounds like he must have dealt with it. So it's a done deal, right?" (You're trying to backpedal a bit: psychologically it's going to spur them to open up a bit more. If you suddenly tried to sell them your services without knowing if they need it, their defenses would likely go up).
Naah, he says, still some work to do. But he doesn't know because he's not the IT guy. Maybe it would be worth giving you his contact number, he says.
"Well," you say, "that may be a good move. But he probably has his own go-to team to deal with issues like this, right?" (Still back-pedaling and acting like it's not a big deal, to get him to open up more).
He doesn't think so. In fact, just an hour ago when he was having lunch with the IT guy, the guy got a phone call from his assistant and they must have sworn back and forth for ten minutes over the situation. In fact, the IT guy may have to leave the show early to go deal with it.
"He and his assistant swore about the situation for ten minutes while you were eating? So the assistant has it handled, then?"
Uh, no, says the visitor. Gulp. Doesn't sound like it. But then, he says again, he's not an IT guy.
Now you've uncovered the real issue. It took a bit of doing, because your visitor was unwilling to reveal that information until you kept asking questions – and following up those questions with some 'aw, shucks, it's probably not a big deal, right?' questions. And with your laidback but curious approach designed to get more information, he's revealed the issue: that there really is a problem that your IT guy is trying to solve. Trying to put out a fire, in fact.
Sales is essentially the same whether it's on the tradeshow floor, on the phone, or in someone's office. It's not about features and benefits. It's about uncovering the problem and seeing if there is a fit between your prospect's problems and your potential solutions. If there is, you'll find an opportunity to discuss it in full at the earliest opportunity. If there is no fit, you wish him or her well and move on to the next.
Next time you're on the tradeshow floor, try to refrain from hitting your visitors with a list of features and benefits at the first sign of a possible lead. Instead, drill down by playing a bit dumb, asking more questions and getting to the prospect's real issues. Then you can schedule the next move that both of your agree on.