When I started the TradeshowGuy Monday Morning Coffee a year ago, my intent was to hold forth weekly about some aspect of the tradeshow world, mix in personal and no-tradeshow or event-related business discussion, and have the occasional guest. After a while of doing that, I decided that I needed guests more regularly – it's much more fun and entertaining! And you learn a bunch from other people, too.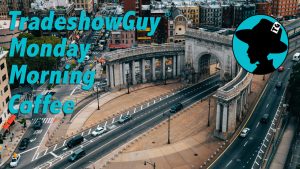 Looking back on the past year, a whole lot of interesting folks stopped by. Here they are, in no particular order):
Mike Duseberg of Magic Means Business – entertaining your tradeshow or corporate crowd.
Ashley Blalock of the Ashley Avery Agency – using hired crew and models in your tradeshow booth.
Dale Obrochta of Put a Twist on It – drawing a crowd at a tradeshow booth with entertainment.
John Halvorson of Transgroup Global Logistics – shipping and tradeshow logistics tips from a pro.
Mel White of Classic Exhibits in Portland – should you rent or purchase a new exhibit?
Ellen Goodwin, Productivity Expert.
Dianne Weiss Jones of DJ Public Relations – how to let the world know about you through PR.
Lynn Maria Thompson, business advisor and ghost writer, and author of the new book The Feline CEO.
Gwen Hill of Exhibit Force – keeping a handle on all of those tradeshow record-keeping tasks.
Jay Tokosch of Core-Apps – using an app to share your catalog, and track and analyze data.
Peter Shankman, author and keynote speaker – on the release of his net book Faster Than Normal.
Richard Erschik of TradeshowLeadstoSales.com – on turning leads into dollars.
Lou Bortone, one of the top video marketers in the world, on what it takes to consistently create good online video interaction.
Dan Paulson, author and business consultant, discusses his new book Apples to Apples.
Brad Kleiner of Flywheel/Sandler Sales Training – on using a sales system that works.
Mel White of Classic Exhibits again, this time on rental exhibits and changes to the Exhibit Design Search.
Katina Rigall-Zipay of Classic Exhibits, 3D exhibit designer on what it takes to create a great exhibit design.
Oz du Soleil of Excel on Fire – Excel spreadsheet trainer.
Roger Courville of Connectorship.com – on making connections in a changing world.
Matt Kazam, stand-up comic and entertainer – on making the switch to tradeshows and  corporate events.
Don Svehla, publisher of Exhibit City News.
Booth Mom Candy Adams on the management of tradeshow exhibit programs.
TED talk veteran, Emmy-winning Executive TV producer Bill Stainton. What it takes to be a keynote speaker, and how he changed his career.
Paul Jackson, Executive Producer of When Calls the Heart, on what it takes to make it in the TV/movie industry – and what today's producers are looking for.
Hey, that's quite a line-up – let's see who we can speak with in 2018.
Leave a review or subscribe on the iTunes podcast page here!