Wait, you probably already know how to do tradeshow math, right? You add up all of the costs, hit "total" and you have a sum that tells you how much you need to spend.
Could be that easy. Let's take a look.
I'm always doing math. In fact, my buddy Rich and I will always answer strange queries with "Do the math." Even on things that supposedly have nothing to do with math.
"Hey, do we need another bottle of peppermint schnapps?"
"What do you think? Just do the math!"
"You gonna watch the new X-Files season?"
"Could be. Do the math!"
I guess you really can apply math to just about everything.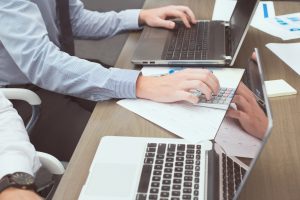 When it comes to tradeshow math, you might want to take a more precise approach than just winging it like Rich and I do during our golfing sojourns.
Identify all of the various things that you need to spend money on: new or upgraded exhibit and all of the related items such as carpeting, electrical, sign hanging, exhibit set up and dismantle; then add in shipping (both directions), drayage, booth space rental and cleaning, internet access if desired.
Beyond that, if you're looking at the whole picture for one show, what is the cost of creating a mailing piece to let people you know you'll be at the show? Add the cost of mailing. Email is certainly significantly cheaper than sending out snail mail, but someone is still going to have to create and send the email. Is that done in-house, or is it done by a creative agency? And are you including the cost of email list rental?
Other pre-show and during-show activities may include social media creation (photos, video, blog posts or other). If your staffers are doing that as part of their job, it may not be an additional separate line item.
In-show marketing or activities may include badge scanner rental, sponsorships, professional demonstrators, lead form printing and more.
Take the last step and do the tradeshow math for the entire year. Add up all of the shows and see how your full year's costs look. Then at the end of the year, add up the actual costs and compare to your estimates. Make adjustments as needed. Rinse and Repeat.
If you'd like to make it a little easier, just download this Excel spreadsheet from Handshake.