When it comes to tradeshow marketing, anything goes. Right? Well, maybe not everything, but certainly it's a time to try things. Do things differently. Experiment.
Or. Maybe not. Tradeshows are fraught with risk. You're putting a lot of money on the line. Generally speaking, the cost of tradeshow marketing is about a third of a company's overall marketing budget. Which means that it's a lot of money in play, making it hard for a company to risk much.
In a sense, tradeshows can be an interesting mix of the precise and the experimental.
The precision is important, to be sure. Your tradeshow staff is your front line. The most important piece of the puzzle. They need to know what they're doing and why. If mistakes are made, or if your staff isn't as well-trained as they could be, your company might miss out on a good amount of potential business.
Your exhibit is important. It's the 3D representation of your brand, and if it's not spot-on, it'll send mixed messages to your audience.
Your products, demos and sampling have to be well-thought out and well-executed. Make some mistakes in these areas, and again, you're leaving potential money on the table.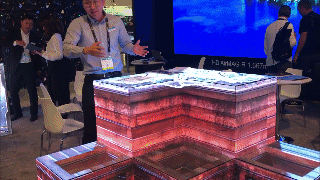 Precision is important in these areas.
But tradeshows are also ripe for experimentation. You have opportunities to do surveys, market research, unusual activities, oddball booth items and much more that will grab eyeballs and attention without impacting the precision needed in other areas. VR, smoothie bikes, live music, projection mapping, unusual use of video….the list is endless as to how creative you can get at tradeshows and still do all of the precise things that you need to do to engage with attendees, capture leads, have an exhibit that captures your brand precisely.
Tradeshows are a balancing act no matter what you're trying to balance. Adding some experimentation along with the precision gives you flexibility, a little tension (which makes people stop and look), and keeps you, your visitors and your competitors on your toes.
---
7 Questions You'll Never Ask Your Exhibit House (Free Report)