Sometimes I get tradeshow exhibiting questions. Well, frankly, I get a lot of questions. Some of them are even about tradeshow marketing! It's worth seeing what people are asking, as well as what they're thinking but not asking (I think!).
Q. Are tradeshows really worth attending?
A. The answer is: it depends! It depends on a variety of factors. Where to start? Let's say that on average, companies spend about a third of their yearly marketing budgets on tradeshows, so there is definitely a lot of money ending up promoting products and services via tradeshow marketing. To get the most bang for your buck, do your due diligence by making sure you're at the right show(s), with a good-looking and effective booth and well-trained and prepared staff.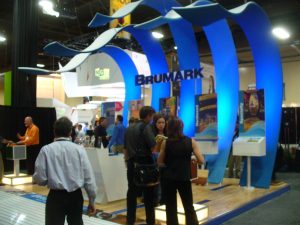 Beyond that there are so many variables you could write a book about it. Well, actually, I did.
Q: How do I know what kind of booth to get or what size?
A. While this is generally dictated by budget constraints, other factors come in to play, such as the size of the show (exhibitors and attendance figures are important to have), what competitors will be at the show and how important a particular show is to your overall tradeshow schedule. Sometimes a small 10×10 booth does a great job representing your company with only a few staffers. Other shows may dictate that you consider stepping up your presence. Lots of exhibitors that show up year after year at shows that are beneficial and help them build their businesses will continually invest in larger booths to make a bigger impression at the show. And when it comes to tradeshows, more than any other kind of marketing, perception is critical!
Q: Graphics are a big challenge for us. What's the best way to approach this subject?
A. Graphics are critical to the success of your booth, so it makes sense to get the most effective design and use the highest quality. Design is critical in that your design should be striking, compelling and simple. Putting too much into a design means that people will not stop to digest it. Large images, bold text, compelling questions or bold statements are all ways to get effective graphics on to your booth. And be sure to work with someone who's used to creating the large-format, high-resolution graphics that are necessary for effective tradeshow graphics. And work with a production facility that does high-quality production.
Q. Even with a big booth in a good location and a great product, we're still coming up short of the amount of leads we feel we should be generating. What else should I consider?
A. A few areas to look at: booth staff competency. Are they properly trained on how to handle visitors in a tradeshow? Also, do you have any interactivity in your booth? That might be something that a visitor can put their hands on, which takes them a few moments during which you can then uncover information to qualify or disqualify them. Finally, you might consider hiring a professional presenter. A good one is worth their weight in gold in the amount of leads they can generate.
Q. I've never exhibited before. We know it's important to make our presence known at some very targeted shows. What's the best way to start?
A. Talk with a professional who can walk you through your various options. These depend on budget, of course, but you'll want to compare renting vs. buying; custom vs. modular or system booth and go over which shows are really a good fit for you. From there you can talk about how best to show off your product or service, how many people to take to the show and what kind of lead generation tools you might want to consider using.
Q. Tradeshows are expensive. What are some good ways to cut costs?
A. Yes, they can be expensive! But you can find ways to keep costs down. You can look at cutting exhibit costs by not using hanging signs (expensive to hang), using a modular booth vs. custom, using reusable packaging material, not having extra boxes shipped to the floor (drives up drayage cost) and much more. For a very thorough list, I'd recommend you take about 45 minutes and watch Mel White's recent webinar with Handshake on 25 Ways to Cut Costs at Your Next Tradeshow. It's well worth your time.
Got more questions? Let me know!