I get this question frequently in its many forms: how much should a tradeshow exhibit cost? How much can I expect to pay for a new tradeshow exhibit? What is the price range for a new tradeshow exhibit?
While there is no set answer, as the price range can be YUUUge for similar exhibits, there are industry averages. Those industry averages adjust slightly from year to year, but to me a good rule of thumb is to assign about $1,000 to $1,500 a linear foot for inline booths and in the case of custom islands, figure the average square foot cost to be in the neighborhood of $135 – $160. In most cases these will be true, but certainly those numbers can be affected by adding a lot of electronics or custom items.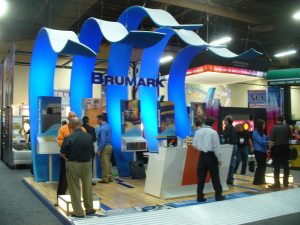 But you can also approach it from other directions. Such as: how much can you realistically spend? What are your expectations for your booth? How do you want your exhibit to compare to your fellow exhibitors, and especially, how do you want to be judged against your direct competitors? Knowing your budget and the limitations from that budget are important. However, I've seen creative marketing people manage to figure out how to squeeze every last drop out of a marketing dollar to make it go further than what you might do at your average tradeshow exhibit house. Backwalls made of old barn wood, pallets or bicycle frames, anyone? I've seen 'em, and they can look good and function well.
Some of the tradeoffs involved with spending those marketing dollars on tradeshow exhibits mean that while you might come up with a very economical homestyle booth, it might take you a lot longer to set up and dismantle, and it might have to be trashed after a time or three at the show. And it might ship in odd shaped containers or on pallets. Creativity comes in all forms, but in the end it still has to conform to the realities of the world of shipping, and the ease of setting up and dismantling, and the size of your assigned booth space.
Often a company will be faced with competitors that are dominating the show in terms of size of booth and in-booth activity, which leads to more show floor sizzle and buzz. So the question becomes one of whether you have the financial ability to compete at that level.
Another way to look at the puzzle is to know that you don't have the budget to scale the mountain like those other competitors, but you do have something else: a creative marketing group that knows how to stand out in a crowd.
It's another way of saying that yes, industry averages are a good starting point to know what things cost that end up on the tradeshow floor, and yes, you can hack your way into a cheaper booth, but what is your net result? Regardless of what the booth costs or looks like or how much or little you spent, you still have to live in it for days at a time, and you still have to invite attendees in and pitch them on your products or services. And the more conducive your exhibit is to those parallel goals, the higher your chances of success.
While having a great exhibit is certainly important, it's not everything.
Knowing how to attract a crowd is important, but it's not the everything, either.
Knowing what to DO with the crowd once they arrive – now that's your meal ticket!