There are three phases to getting people to talk about your tradeshow exhibit. First, you'd love to get them talking about it before the show. Second, you want them talking about the exhibit during the show. And finally, you want to make it memorable enough so that they're talking about it after the show.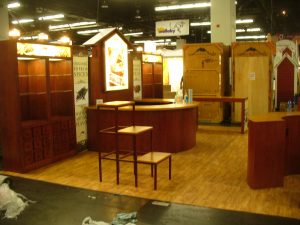 Realistically, I suppose it's hard to achieve all of those bits and pieces with every exhibit and every show, but as my old football coach used to say, "It don't hurt to try, do it?"
Prior to the show, set some goals. Figure out what you'd like to accomplish at the show in terms of booth traffic, leads generated and sales generated. Having these numbers in hand will help you focus. Drive traffic to your booth starting a week or so prior to the show by teasing products or in-person appearances in your booth on Facebook, Instagram, Twitter and LinkedIn, making sure you use the standard show hashtag. If you do a pre-show mailing, you can increase your booth traffic by increasing a promotional product in that mailing.
During the show, the best way to get people to talk about your exhibit is to have all hands on deck. Your staff should be well-trained and well-prepared for the show. They should be dressed appropriately (uniforms, matching tees?). The electronics in the booth should be tested and working properly, graphics should be attractive and functional. On social media, send out time-sensitive tweets and posts that invite people to see something new or meet somebody, or interact with something in the booth that appeals to the five senses. If you can pull off a few of these ideas in a clever and memorable way, show attendees will go out of their way to mention your booth.
After the show, follow up with all leads generated in a timely manner. Post photos of your exhibit and visitors over the next few weeks on social media. Mention any press you many have gotten online or in a newsletter. If you've created a list of email addresses or phone numbers of booth visitors, reach back to them to ask their opinion.
Word of mouth is an effective way to market your business. And even though you're at a tradeshow, getting people to talk about your exhibit and presence at the show can start prior to the show and linger afterwards!