Well, first off, if it was my mom, I probably wouldn't use the word 'damn,' but hey – there you are. My mom turns 90 (!) next June, has no interest in tradeshow marketing or tradeshow exhibits, but she has read and enjoyed my book Tradeshow Success. So maybe there's a wee bit of interest. Still, she probably doesn't really know what goes into a damn good tradeshow exhibit, so it's a fun exercise.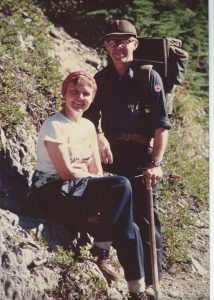 "First, Mom, look at the overall impression the exhibit gives you." The booth is big like an island, small (10×10) or medium. Doesn't matter, it's going to give you an impression. And as my mother used to say (ha!), you don't get a chance to make a second impression. What does the exhibit say to you? Is it welcoming? Does it communicate any specific messages with the images and graphics? If there's  a hanging sign, you should be able to identify the company from a couple of hundred feet away.
"Now, Mom, look at the exhibit a little closer. Are the graphics sharp? Can you read them from 30 feet away? If they're sampling items, it is clear that the displays are samples that you can take with you, or not?" When a visitor approaches a booth staffer should greet them, or there should be some intuitive understanding of what you are able to do. If there's a sample of your products, is it easy to understand that you can take one, or if not, is there a sign that says "for display only"? Do you have an immediate understanding of the type of company they are, what products they offer, and how they want visitors to see them in their industry?
"Okay, Mom, do the booth staffers look like they know what they're doing? Do they have a smile? Are they on their phone? Are they paying attention to passersby?" Well-trained booth staffers know how to greet people with good questions, offer a smile, and are not doing something that is off-putting such as staring into their phone or eating. They know how to quality and disqualify visitors with a couple of questions.
"Mom, look around: is the booth clean? Are there personal items stashed out of site or are they leaning up against some element of the exhibit?" A well-designed booth will have ample storage room for personal items and products or other things needed throughout the show by the staffers. It'll be clean, garbage cans won't be overflowing. Yes, at the end of a busy day, it may be impossible to have a spic and span exhibit, but an attentive staffer can take a few moments during a lull to run a carpet cleaner over the floor and hoist the garbage into a nearby garbage can.
"Finally, Mom, let's pretend we're interested in their products and see what happens." At this point, a good staffer will start the lead generation process, whatever it is. They'll scan a badge, collect a business card, ask a few questions that determine the level of interest, and finally, they'll agree on a follow-up step with the potential client. It could be an email, could be a phone call, could be a personal visit, could be sending them something in the mail. And you'll both agree when that step will take place.
If Mom – who has no knowledge or interest in tradeshow marketing, but is sharp as a tack – can understand these things and see that damn good tradeshow exhibit from many aspects, you've accomplished a lot.