This week is the launch of my new book "Tradeshow Success: 14 Proven Steps to Take Your Tradeshow Marketing to the Next Level." I'm doing a lot of the normal launch things an author would do: sending copies to industry media and bloggers, along with industry colleagues. Creating a list of clients and potential clients that I'd like to get the book into. And much more!
Beyond that, I've created a series of 14 videos, with each one relating to one of the chapters in the book. Those videos are appearing, about one a day, at my YouTube Tradeshow Marketing channel. Check 'em out!
So what can you do? If you want to purchase the paperback, here's the Amazon.com page. You can also buy the Kindle version for about half the list price of the paperback.
You can also read the book for free here at TradeshowSuccessBook.com. You'll be asked to opt-in to a mailing list (which, if you gotta, you can always unsubscribe from).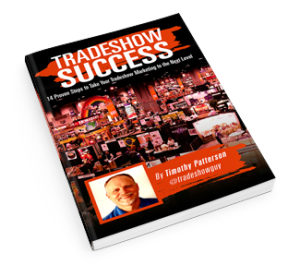 What do you get in the book? As mentioned in the subtitle, I've detailed 14 steps that are critical to tradeshow success. Not every successful tradeshow marketer uses all of these steps with utmost efficiency, but most of them make very good use of many of the steps.
So what are the steps?
Let's take a look at the 14 Steps:
Step One: Going with or without a Map? Are you doing enough planning and organizing around your tradeshows?
Step Two: Dollars, Pounds, Euros: How Much Do You Really Need to Make This Work? A breakdown of the budgeting process for tradeshows and what it takes to budget for a new exhibit.
Step Three: Getting Ready for the Big Dance: Pre-show planning and marketing.
Step Four: Did You Come to the Right Dance? Just make sure that your target market is at the show you're going to dump all of that money into.
Step Five: Home is Where the Booth Is: Booth design essentials, including function, traffic flow, graphics and more.
Step Six: Is Your Frontline Team Up to Snuff? Booth staff training!
Step Seven: What Do I Do With All of These People in the Booth? Now that you've drawn a crowd, what do you do with them?
Step Eight: Tweeting, Posting and Instagramming Like a King or Queen: Putting social media to work for you in a creative way.
Step Nine: Who's Keeping Track of Those Damn Tweets? Someone needs to create videos, blog posts, tweets, etc. Here's a great look at some online content ideas.
Step Ten: Got a Stack of Leads: Now What? Lead generation and follow up.
Step Eleven: Becoming the Zen Master of Stats and Records: Record-keeping is the secret sauce to tracking your success.
Step Twelve: Stirring the Public Relations and Media Pot: Working with industry media.
Step Thirteen: Do QR Codes Still Kill Kittens? And Other Tech Questions: A quick examination of technology in tradeshows.
Step Fourteen: Out Of Your Nest: Time to Fly! Your call to action!
Want to grab your own copy? Use the links above to own your own. Or if you want the digital version (PDF download), try this: