A guest post from Ray Ko of POP Displays.
During the height of the pandemic, in-person trade shows came to a near halt due to health and safety concerns. Two years later, the restrictions are finally lifting—and organizations are ready to get back to face-to-face engagement with potential clients.
But while everyone is gearing up to get back to our new normal, safety remains a top priority for trade show organizers and attendees. In fact, according to data from EventMB, 55 percent of event planners cited safety concerns as the biggest obstacle to hosting live events. It's important to remember, however, that safety is about more than protecting attendees from COVID-19. Visitors to your booth should feel comfortable being in the space you set up to showcase your business—and you should be able to focus on the task at hand without worry. With that in mind, here are some tips on making your trade show booth safe in a variety of ways.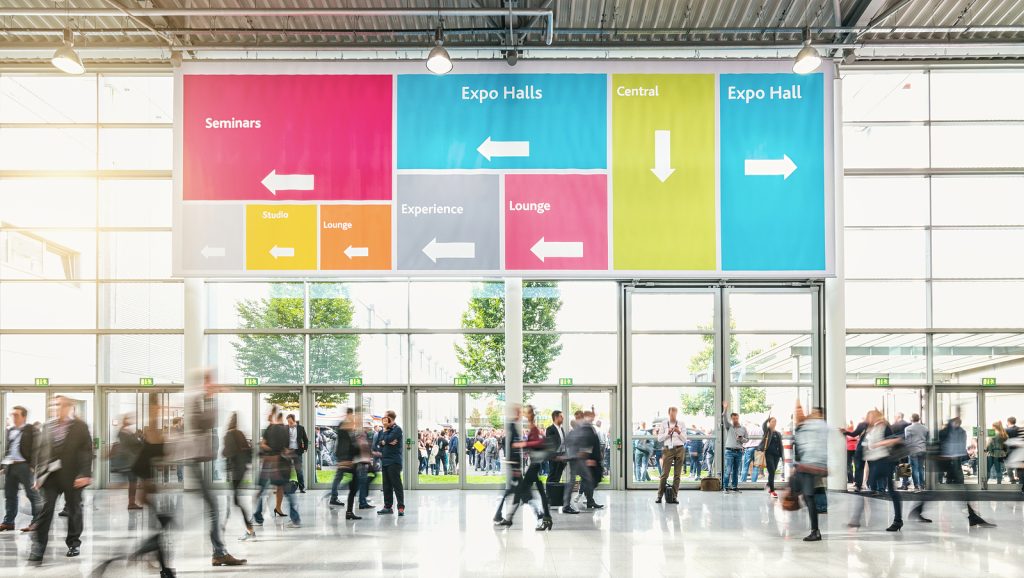 Staff it well. It's crucial that there is enough staff in your booth to not only engage
with visitors, but also to be aware that everyone is following important directions
and protocols.
Communicate safety protocols. Make sure there is easy-to-read signage throughout the area. Choose display options that are effortless to set up and break down, such as plastic sign holders, window sign holders with suction cups, and metal display stands.
Keep valuables locked. Choosing display options with locks can keep expensive products and items secure so you can focus on wooing potential customers.
Utilize barriers. You can ensure that visitors respect one another's personal space through the use of retail barriers. Separating your booth into different sections will also make it a more engaging and inviting space.
Encourage good hygiene. Even without a pandemic, it's always a good idea to promote hand washing, especially if visitors will be touching display items. Place bottles of hand sanitizers around the booth, along with a few friendly signs encouraging everyone to "please, wash their hands."
Designate a clear entrance and exit. Prevent overcrowding—and anyone bumping into one another or knocking merchandise or collateral materials over—by having a clear area for people to enter and another for exit.
Set up separate areas. If possible, you can set separate areas for one-on-one meetings to steer potential clients away from the hustle and bustle of the main part of your booth. Visitors will feel more comfortable sitting down to talk if they don't feel crowded.
Disinfect frequently. Whatever marketing tools you use to attract customers to your booth—display pedestals, tables, pamphlet holders, signage, etc.—should be wiped down frequently throughout the event. It will help reduce the risk of spreading infection, and potential clients will appreciate the extra effort.
Choose sturdy display options. The last thing you want is for one of your displays to fall down. You can find budget-friendly options that are still durable.
Serve prepackaged treats. In the past, trade show exhibitors might entice attendees to stop by their booth with edibles—muffins, pastries or even bowls of candy. Instead, offer prepackaged treats that are displayed to make them easy to grab. Navigating the trade show scene, whether as an exhibitor or attendee, safety (however you define it) will be top of mind moving forward. Consider these tips or tools-of-the-trade for a successful trade show experience.
---
About The Author
Ray Ko
Director of E-Commerce
Ray Ko is the Director of E-Commerce & Digital Marketing at shopPOPdisplays. Located in New Jersey, the company is a leading manufacturer of retail point-of-purchase merchandising systems. Ko has more than twenty years of experience in branding, content, and strategic marketing.