The thing I was most curious about while walking the floors and halls of Natural Products Expo West 2022 earlier this month in March was this: how many exhibitors and attendees showed up?
It was a question that kept coming up as I would turn the corner at the rear of one of the halls and instead of seeing rows and rows of small exhibits against the wall, I saw lots of empty space. Throughout the hall, instead of large island exhibits everywhere, you'd occasionally see a gathering spot with tables and chairs instead of a large island.
Which got me thinking about the final totals. On day one, I figured attendance for both exhibitors and attendees would be around 85%. On day two, after seeing more empty space, I revised that downward to about 80%.
On Monday, New Hope Network released numbers: over 57,000 registered attendees and over 2,700 exhibitors. Based on numbers in 2019 (which I'm dredging up from memory, but still, they're close), which showed attendees at about 80,000 and exhibitors at about 3,400, the numbers this year showed a significant decline. Attendees were about 71% of 2019, and exhibitors came in at about the 79% level.
So, yeah, respectable. And people I spoke with, both exhibitors and attendees, found it a worthwhile show. Days One and Two were the best (no surprise), with all of the exhibitors I spoke with saying they'd had good conversations with a LOT of people. Day Three, of course, is more of a rush not only through the shortened day, but once two or three o'clock rolls around, a rush to the door.
A few observations:
There was a masking requirement in effect. Almost no one observed it. Maybe one in twenty. Given the pre-show health check confirming vaccinations or proof of negative tests, and the declining cases throughout the country, and of course, COVID fatigue, it didn't surprise me that masks were mostly a no-show. Besides, with nearly 60,000 attendees, how do you actually enforce something like that?
But: QR Codes are back! If you search this blog for QR Codes, you'll find an assortment of posts, ranging from how to use QR Codes at tradeshows, to posts questioning their validity anymore. But this year, QR Codes were back in full force. By the hundreds. I spoke with a number of people about it, and most either suggested, or agreed with the notion that one reason they're so prevalent is that phones no longer need code-scanning apps. The ability to scan codes is built-in to the camera software. I lost count at over a hundred QR Codes.
Big Names Missing. Again, no real surprise that some brands chose to skip this year's show. I tweeted about a handful of them that were missing: Kashi, Kettle Foods, Enjoy Life, Clif Bar, and Silk, all of which have previously appeared numerous times with large island booths. Not this year. I'm sure a few slipped my mind.
TradeshowGuy Exhibits' client list also was reduced, but it was the busiest year I've ever had at the show. I spent a total of 9+ days at the show, supervising the installation and dismantling of two long-time clients, Bob's Red Mill (30×40) and Mountain Rose Herbs (20×30). The Bob's Red Mill exhibit is the iconic mill-like structure that captures their brand to a T. It's been around since 2013. Mountain Rose Herbs, which hasn't been at the show for nearly a decade, returned with a 20×30 new design focused on promoting new lines of essential oils and teas, and much more. The two main pieces of the exhibit are a 13' tower/conference room and a 10' tall display unit that was filled with herbs in a stratified style onsite prior to the show. It wowed. Great to work with both clients. We also had other clients at the show, including Greater Knead and Wildbrine, but like many exhibitors, some of our clients chose to sit this one out.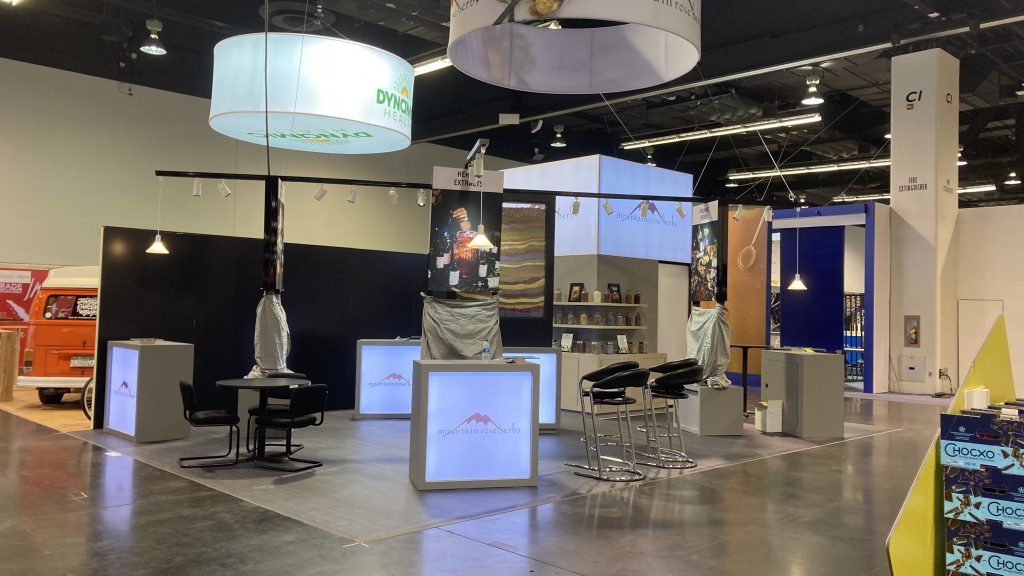 A few final words. I always approach Natural Products Expo West with both anticipation and a little dread. It's a big show and can be stressful. But it's always worth it. It was great to get back to seeing people in person, saying hello to people I've met over the years, and meeting new people.
And hey, there was even that celebrity siting! Jason Momoa popped in the North Halls for a short time and I managed to get his picture. He's tall.