I couldn't sleep last night, so I sat up and jotted down a few thoughts and observations from what I've seen in the past 17+ years in the tradeshow industry. I got to thinking about the exhibition industry, as it is often called, from both the exhibit-production side and the exhibitor side. What things do I observe in seeing how other exhibit companies work? By reading industry periodicals and staying in touch with industry colleagues?
Tradeshow Industry from the Exhibit Producer Side
Let's start with the industry as a whole. Tradeshows in the USA generated $12.1B as a B2B marketing operation in 2017. The industry is growing at about a 4.1% annual rate (projected from 2016 – 2021). Which, considering that the economy as a whole is struggling to grow at just 3%, is a pretty good thing.
There are thousands of exhibit companies competing for your business. They all want a fair share of business available from companies that are looking to upgrade or replace old exhibits. The industry supports a lot of very big companies, as well as a lot of companies that work with just a handful of loyal clients.
Profit margin for exhibit companies is substantial but there's a very good reason. Things cost a lot. There is a lot of labor cost. Without substantial markup companies couldn't survive for long. I don't have enough information on other industries, but I'm told that the margin in groceries, for example, is razor thin. Same for gas stations. What they don't make on the margin still makes them a good amount of profit due to the sheer volume of products they sell.
Yes, you can find lower cost items and companies willing to provide lower cost service but at what cost in quality and service? If you shop around to find the lowest price, are you giving up a warranty or guarantee, or are you trading a few dollars for an inferior product?
Some exhibit companies have large spaces and large staffs. Massive overhead means they need to keep developing new business and selling more things to current clients. I've seen those up close and understand that the pressure to produce can be immense.
Smaller companies such as TradeshowGuy Exhibits still need to generate profit to survive and thrive but are not driven to the levels as the bigger companies.
From a "making more sales" standpoint, there's no one single thing that is the magic button to generate sales for exhibit companies working to drum up more business. I've talked to numerous sales account executives at different sized companies and they all say about the same thing: sales are hard to make, there is a lot of competition, no one thing works, so they all do a combination of what you might expect: phone and email prospecting, advertising (print and online), meet and greets at tradeshows, and networking groups. Some are more creative than others, some more persistent than others, some more organized, and so on. But they all love it, because they like making their clients look good when the exhibit is finally set up.
Lightboxes (aluminum extrusion silicon-edge fabric graphics) can be a bit tedious to set up, but damn, they look sharp.
From the Exhibitor side
Many companies seem to be somewhat naïve about how the industry works. Shipping, logistics et al are almost like a black hole mystery box. There is a world of moving stuff around from the warehouse to the show site that many people rarely get involved with. Those that are involved are always looking at ways to shave dollars. And to a person, I hear them say, "tradeshow stuff just costs a lot."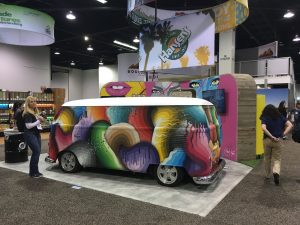 Most companies don't have a sense of how much things cost and how much extra cost will be added along the way. Think drayage, Installation & Dismantle, shipping, graphic design and printing. 
Many companies fail to take advantage of all of the various steps: preshow, postshow, staff training, in booth activities, social media, etc.
More and more companies I work with are hiring labor to setup and dismantle their exhibits. I find that of exhibit crews, about one out of three is a real pro and knows exactly how things work. One out of three know pretty well what they're doing. And the third hired hand is usually there just for his willingness to schlep heavy things around – and you hope they do what they're told. I also find that many crews assume that with a simple glance or two at the setup instructions, they know how it works. Often it does. But I've seen a number of occasions where a lot of time could have been saved if they'd only read the instructions in greater detail. Time wasted on a tradeshow floor is expensive.
Growth can happen quickly with tradeshow marketing. Many companies I've worked with over the past few years have seen substantial growth and are regularly increasing the size of their exhibits. As Bob Moore of Bob's Red Mill famously once said, "Tradeshows have opened doors to markets that we would not have otherwise been able to open." Or something like that – but you get the idea.
Opportunity abounds in today's tradeshow marketing world, but it's easy to lose $$$ if you make a misstep. Larger companies with deeper pockets have a natural advantage, but that doesn't mean they are always doing the best they can. Smaller companies with few dollars can still use tradeshow marketing to attract people to their booth with creative marketing, great interactivity, attractive exhibits and more – and still crack open doors to new markets. Which leads to more growth (see the previous paragraph!).
For those companies that do get involved in tradeshow marketing – and certainly not every company does – they spend roughly a third of their marketing budget on tradeshows.
From the Personal Side
I've been in the industry since April 2002. It took years for me to get used to the industry and a few more to like and then love the industry and thrive in it. I came from the radio industry, which from a sales standpoint, moved very quickly. Yes, there are deadlines which don't move and keep you on your toes in the tradeshow world, but it's not like the radio world where a sales person could come in and need something to be written, voiced and produced and on the air within the hour. Which happened frequently. My first impression of the exhibit world was that things moved at a glacial pace. Boy did that take some adjusting!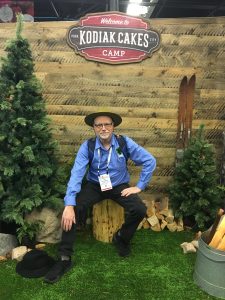 Ever since I was a kid I wanted to work for myself. That radio thing was great for 25+ years, but in the back of my mind I was trying to figure out how to be my own boss. When I entered the tradeshow exhibit industry on a fluke when the radio industry changed, I was still working for someone else. It wasn't until the owner of that company retired and I was thrust into the unknown (ever try to find a good-paying job in your mid 50's?), I figured it was now or never. I'm still surprised by how well it worked out. There's no guarantee, of course, but for now it's good.
I can do marketing, blogging, podcasting, prospecting, phone calling, meeting people at shows and following up regularly – and yet when it comes time for a company to purchase a new exhibit, it seems no matter how much I try to stay in front of people, it's easy for them to go elsewhere. Again, back to that magic button: how do you manage to stay in front of a decision-maker so that you're there at the exact time they need you? Anyone? Bueller? Bueller?
One way to differentiate myself was to write. Starting as a blogger in November 2008, producing ebooks and more, and finally writing a pair of books (Tradeshow Success in 2015 and Tradeshow Superheroes and Exhibiting Zombies in 2018) was my way of doing that. I couldn't tell you how much it's contributed to my success or helped make sales, but I like giving the book away to potential clients – and hey, a few even sell on Amazon now and then!
Another way to differentiate myself was to go back to using my radio skills. First as a guy who knew how to record digital audio and post it on our company website (anyone remember Real Audio?), and then as a podcaster on this blog. And of course, video is a gas, as well. My viewpoint is that the more real you are, the better chance you have of making a personal connection with someone who wants to do business with you. That's always been my philosophy. Share who you are, what you like, and how you do things. In today's world, making a personal connection is a way to get ahead.
---