(Warning: self-promotional blog post. Not recommended more than once or twice a year…)
It was my 11th year at Expo West as a representative of a company that provides exhibit booths for exhibitors.
First: 11 years? Kidding, right?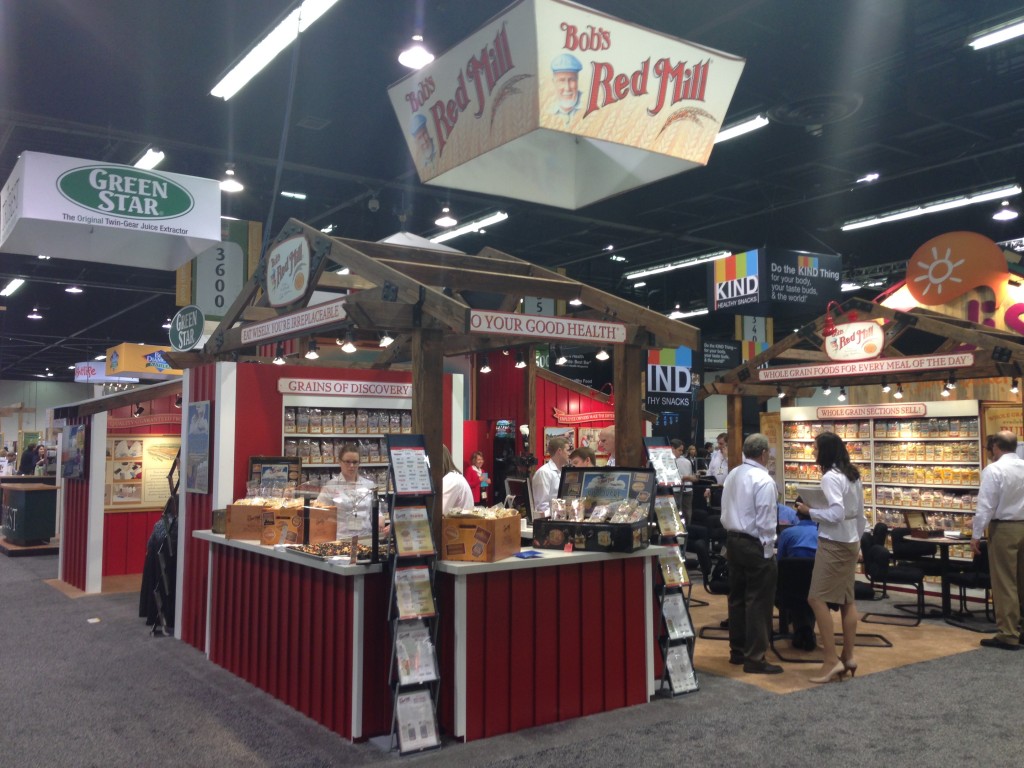 No. The first booth client I had way back in 2003 was Kettle Foods of Salem, Oregon, which lead to doing a booth for Nancy's Yogurt / Springfield Dairy, Natracare, Hyland's Homeopathic, gDiapers and many others.
Besides having to basically eat your way through the day with the glut of food samples, I spent time meeting exhibitors and making connections.
And making sure that my new projects were working.
The two new booths my company, Communication One Exhibits had this year were from Bob's Red Mill and gDiapers. The Bob's Red Mill was a custom 30' x 30' booth, designed by Greg Garrett Designs of Vancouver and fabricated by Classic Exhibits. It was a stunner and was definitely well-received by the company – including Bob Moore, who called it 'impressive' – and show visitors. The exhibit had three structures – a main company info-display area, a product display area and – in a new move for Bob's Red Mill – a food sampling station. The main structure was capped with a 4' cupola high atop a structure that echoed their mill store in Milwaukie, Oregon. Either end of the main structure had 52" video screens that continuously showed informative videos.
Bob has a great way of making an entrance. Bring along a Dixieland band! Check out the video from Day One:
httpv://www.youtube.com/watch?v=t8aFhxjan0w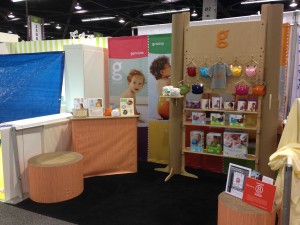 The other booth was at the other end of the scale. gDiapers, of Portland, Oregon, is a company that offers reusable diaper covers with disposable inserts. Years ago, when I was VP of Sales and Marketing for Interpretive Exhibits, we designed and constructed a 20' in-line booth for gDiapers that had plenty of display space, slat wall and a fabric banner across the top. As their clientele needs evolved, so did the company's desire for a simpler display that was easier to set up. So with the help of Portland's Boothster, we designed and built a 10' inline booth that had a small display area and a large 10' fabric back wall, along with cardboard chairs and cardboard tube-constructed counter with wrap-around graphic. The booth looked great and gDiapers loved it!
Yes, I blog about social media and tradeshow and event marketing, but my company Communication One Exhibits has a ton of great capabilities to design and fabricate tradeshow booths to suit any need.
Let me now step off of my soapbox…thank you verry much for your time!